Bradley eNews – September 23-27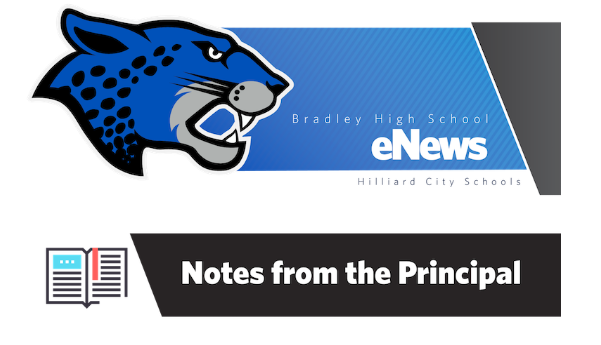 IT'S HOMECOMING WEEK
It's Homecoming Week for Bradley High School.   We have many events planned for this Celebration!  Throughout the week, students and teachers will be dressing to a different theme.   Our Bradley Leadership Retreat will be sponsoring our Annual Powder puff Game on Wednesday evening at 7 p.m.  Our Annual Jaguar Parade will be Friday before the football game at 5:30 p.m.  After the parade, the Jaguar Football Team will take on Thomas Worthington High School with the kickoff at 7 p.m.   Our Homecoming Royalty will be crowned at Halftime.
During the week, students can participate in our themes:
Monday – Pajama Day
Tuesday – VSCO Girl
Wednesday – Farmer Day
Thursday – Groutfit Day
Friday – Jersey Day
On Saturday Night, our Homecoming Dance will be from 7:30 p.m. – 10:30 p.m.  The theme this year will be "Disco Dance".  Just as last year, we only permit school appropriate dancing.  All students who purchase a ticket to the Dance will receive a wristband as they enter.  If a student is dancing inappropriately, they will be given one warning and their wristband will be removed.  If the inappropriate dancing continues a 2nd time, they will be asked to leave and parents will be notified.  We want this to be a fun night for everyone.  If your child feels as though they are unable to abide by these rules, we ask that they do not attend the dance.   Thank you for your understanding!  You can PURCHASE TICKETS HERE.

WHAT'S HAPPENING AT BRADLEY
September 25   Ski and Board Club Parent Info Night @ 7 p.m. @ Davidson H.S.
September 25   Powder Puff Football Game @ 7 p.m.
September 27   Homecoming Parade @ 5:30 p.m.
September 28   Homecoming Dance   7:30 – 10:30p.m.  TICKETS HERE
September 28    Discover HCS   REGISTER HERE
CLICK HERE to view our Bradley calendar for all events.

SKI AND BOARD CLUB
Ski and Board Club Parent Information Meeting
Wednesday, Sept. 25th, 7:00 pm
Meeting in room 202 at Davidson HS
Colorado Mountain Sports will be raffling free gear!
SCHOOL COUNSELOR INFORMATION
Check out our School Counseling WEBSITE HERE.
On this site, you will find information on how to schedule a time to see your School Counselor and also see lots of college information.  Seniors – you will also be able to stay up to date on scholarships and other graduation information as they become available.
Suicide Awareness Month
September is Suicide Awareness Month.  We want to express the importance of communication about mental health and eliminate the stigma that has surrounded this for years. In an effort to help educate our families we have put several resources on the district web page for when a friend, child or neighbor needs help.
SENIORS – CLASS OF 2020
COLLEGE INFORMATION
Many of you have already started the process of applying to college.  Use THIS LINK for information on important dates and college rep visits to Bradley.
SENIOR PICTURE INFORMATION
Senior picture submissions are being accepted NOW for the 2019-2020 Yearbook! The deadline for submissions is Friday, December 13th, 2019, but why wait? Upload your senior photo NOW by going to our Bradley Yearbook website at http://is.gd/hbyearbook and filling out the google form linked under the "Senior Pictures" tab. The sooner the better!
If you want to purchase a yearbook for the 2019/2020 school year, go to  www.jostensyearbooks.com.\

A MESSAGE FROM OUR PTO
DID YOU KNOW:  Bradley has a PTO?  It does…and we need your help!  The PTO is fueled by fundraisers, donations and service hours, all essential to helping us provide student scholarships, teacher conference meals, our monthly free Cookie Days for students, and so much more.
CLICK HERE to check out current fundraisers (Texas Roadhouse Rolls and Cinnamon Butter, anyone?!) and giving opportunities, so you can help us support the students and teachers in their ongoing efforts  Every donation, new idea, and helping hand, however big or small, is welcomed and appreciated!

Commitment to Student Health
This week we added six Vape Detectors in our High Schools.  There was a considerable amount of misinformation being spread on social media.  Please take a few moments to read Superintendent John Marschhausen's blog to find the correct information about this pilot program.
Discover HCS – A Week Away
You can now look at our entire course catalog for Discover HCS taking place on September 28 at Darby High School.  Sessions run from 8 am until 12:30 pm.  You can discover more about creating a healthy tech/life balance, how to raise an adult, Elementary Reading and Math, design thinking and the gift of failure.  Our keynote for the day is Dr. Lisa Hinkelman, Founder and CEO of ROX.  Her session is, "A Confidence Crisis: What 10,678 Girls Think about Stress, Social Media, School and Their Futures."
Please be sure to register early, as we expect sessions to fill fast.
Social Media Influencers
We are in the process of putting together a parent, student, and community social media team.  If social media is something you love to do, AND you are committed to spreading the Hilliard Schools' story, then we are looking for you.  Please email Stacie_Raterman@hboe.org and let us know why you must be a part of this team.  Please include any social media accounts you currently use.
Facilities for Tomorrow Conference – Save the Date
Please make plans to join us as we kick off our Master Facility Plan on October 20 at Darby High School for a community Facilities for Tomorrow Conference.  This night will be an open meeting to get our community actively engaged in the master planning process. We will have a short presentation of current and future trends in education, and small group discussions for you to share your vision of what a Hilliard education should look like in the future.
Please save the date now; more details will come soon.
State of the Schools – Save the Date
We want to invite you to Dr. Marschhausen's sixth State of the Schools address on Thursday, October 24, 2019.  This year we will hold the event at Heritage Golf Club at 6:00 pm.  We will have more details soon, but we hope you make plans now to attend.