Bradley eNews – October 28-November 1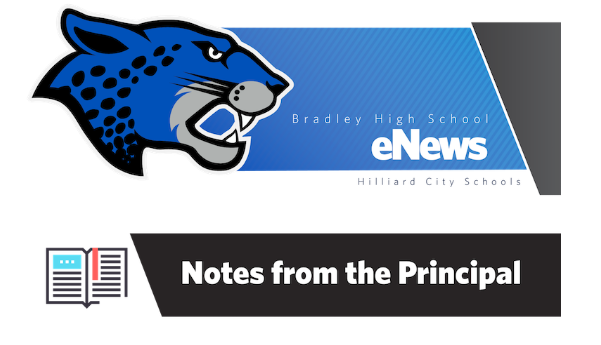 REPORT CARDS ARE NOW AVAILABLE
Grade cards are available on HOME ACCESS now.  The 2nd quarter started on October 21.  If you have specific grading questions, please contact your child's teacher.

WHAT'S HAPPENING AT BRADLEY
Oct. 29   3rd period  Tolles Presentation for 10th grade students
Nov. 5 @ 7 p.m.  PTO Meeting in Media Center
Nov. 5  No School for students
Nov. 7 @ 7 p.m.  National Honor Society Induction
CLICK HERE to view our Bradley calendar for all events.

ATTENTION AP STUDENTS
Attention AP Students and Parents:  The payment period is now open for AP registration and will remain open until November 1st. Please pay for your AP exams ASAP. The preferred method of payment is through MyPaymentsPlus.  You can also bring in a check (payable to Hilliard City Schools) or cash to the guidance office. Please note, the process is new this school year and we are no longer using the paper forms to order AP exams. Paying for the exams is how an AP exam is ordered for each student.
SCHOOL COUNSELOR INFORMATION
Check out our School Counseling WEBSITE HERE.
On this site, you will find information on how to schedule a time to see your School Counselor and also see lots of college information.  Seniors – you will also be able to stay up to date on scholarships and other graduation information as they become available.
​​​​​​​
SENIORS – CLASS OF 2020
College application deadlines are fast approaching!  Below is a list of things that must be finished by the deadline
Completed application – Submitted
ACT/SAT scores sent directly to the institutions from the testing agency.  Hilliard does not send ACT/SAT scores to colleges.
Turn in a "transcript authorization" form to the guidance department
Request transcripts in Naviance
Request letters of recommendation in Naviance
***Deadlines are fast approaching! – Once you (student) have completed your application, go ahead and submit!  Do not wait until the last minute!  Counselors are working to make sure all transcripts are submitted by the deadline.***
Use THIS LINK for more information about your senior year that includes important dates in preparing for graduation. 
Use THIS LINK for more information about college and career planning.
Use THIS LINK for more information about college rep visits at Bradley.
SENIOR PICTURE INFORMATION
Senior picture submissions are being accepted NOW for the 2019-2020 Yearbook! The deadline for submissions is Friday, December 13th, 2019, but why wait? Upload your senior photo NOW by going to our Bradley Yearbook website at http://is.gd/hbyearbook and filling out the google form linked under the "Senior Pictures" tab. The sooner the better!
If you want to purchase a yearbook for the 2019/2020 school year, go to  www.jostensyearbooks.com

A MESSAGE FROM OUR PTO
November 17 is Spirit Night at Chipotle 4-8pm with Flyer (1835 Hilliard Rome Rd)
Parents and Grandparents Spirit Wear Sale ends October 30th! Don't miss the chance get one of these beauties! Great for Holiday Gifts!
Student Treat Day is October 30th please sign up here  to bring in treats for our students. Pre-packaged, store bought or fresh-baked treats are needed. See link for important information.
Support the PTO Spirit Night at Chipotle (Hilliard Rome Road location only) – Sun., Nov. 17th – 4:00 p.m. to 8:00 p.m. Remember to bring your flyer.
The next PTO Meeting is Tuesday, November 5th at 7:00 p.m. in the Media Center at Bradley. All parents and guardians are welcome to attend.
Visit the Bradley PTO web page to learn more about how you can help support PTO.

Being Mindful in a Hyper-Connected World
This week Superintendent Marschhausen discussed how the over-use of technology can impact our lives.  We invite you to read his blog on the district web page.
ThoughtExchange – Master Facility Plan Input Needed
After our first round of Master Facility Plan meetings we have created a ThoughtExchange for those unable to join us at the meetings.  Please take a moment to give us your thoughts on future facility planning and then help rate other people's thoughts and ideas.  The success of the Master Facility Plan depends on community engagement.  Please don't miss out on giving us your opinions.
COME SUPPORT YOUR HILLIARD SPECIAL OLYMPIC ATHLETES
Please join us for the Bobcat Boogie 5K/1 Mile event. This is family fun event which will be held on Sunday, November 3rd at the Hilliard Municipal Park with 100% of the proceeds benefiting the Hilliard Special Olympics.  Medals given to all finishers and awards given to the first 3 male and female finishers!
Come walk, run, wheel, or boogie you way through our fun family event to support the Hilliard Special Olympics organization!  100% of our profits from our Boogie will go directly to our organization and gives us the ability to provide a variety of experiences and continued opportunities for our athletes.
LOCATION: Hilliard Municipal Park, 3800 Veterans Memorial Drive, Hilliard, Ohio 43026
PACKET PICK UP & LAST MINUTE REGISTRATION: Day of Event, 8:30-9:30am
RACE START: 10:00am
MEETING LOCATION: Aspen Shelter House (in front of community center)
EXTRA PARKING: In Hilliard Heritage Middle School parking lot
COST: 5K Run/Walk = $35, 1 Miler = $25, Bobcat Athletes 5K = $25