Bradley eNews – October 21-25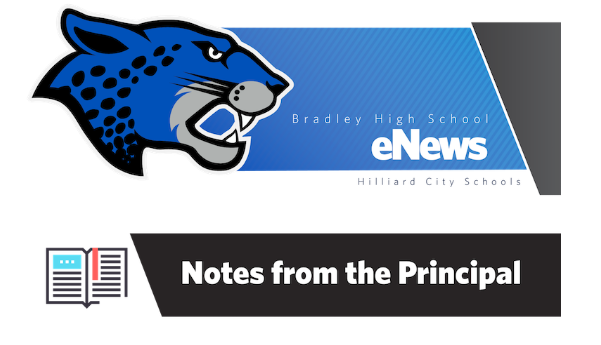 WHAT'S HAPPENING AT BRADLEY
Oct. 22    Jostens Class Ring Orders Due during lunch periods
Oct. 22    Fall Choir Concert @ 7 p.m.
Oct. 23   Jostens Cap and Gown Orders Due during lunch periods
Oct. 23   Fall Orchestra Concert @ 7 p.m.
Oct. 24   State of the Schools @ Heritage Golf Club   6 p.m.
CLICK HERE to view our Bradley calendar for all events.

ATTENTION AP STUDENTS
Attention AP Students and Parents:  The payment period is now open for AP registration and will remain open until November 1st. Please pay for your AP exams ASAP. The preferred method of payment is through MyPaymentsPlus.  You can also bring in a check (payable to Hilliard City Schools) or cash to the guidance office. Please note, the process is new this school year and we are no longer using the paper forms to order AP exams. Paying for the exams is how an AP exam is ordered for each student.
SCHOOL COUNSELOR INFORMATION
Check out our School Counseling WEBSITE HERE.
On this site, you will find information on how to schedule a time to see your School Counselor and also see lots of college information.  Seniors – you will also be able to stay up to date on scholarships and other graduation information as they become available.
SENIORS – CLASS OF 2020
COLLEGE INFORMATION
Many of you have already started the process of applying to college.  Use THIS LINK for information on important dates and college rep visits to Bradley.
SENIOR PICTURE INFORMATION
Senior picture submissions are being accepted NOW for the 2019-2020 Yearbook! The deadline for submissions is Friday, December 13th, 2019, but why wait? Upload your senior photo NOW by going to our Bradley Yearbook website at http://is.gd/hbyearbook and filling out the google form linked under the "Senior Pictures" tab. The sooner the better!
If you want to purchase a yearbook for the 2019/2020 school year, go to  www.jostensyearbooks.com

A MESSAGE FROM OUR PTO
DID YOU KNOW:  Bradley has a PTO?  It does…and we need your help!  The PTO is fueled by fundraisers, donations and service hours, all essential to helping us provide student scholarships, teacher conference meals, our monthly free Cookie Days for students, and so much more.   CLICK HERE for more information.

See you at the State of the Schools Next Thursday
We hope to see you at the State of the Schools address on Thursday, October 24, 2019 at Heritage Golf Club.  The event is sponsored by The Credit Union of Ohio and presented in partnership with The Hilliard Area Chamber of Commerce.  We will begin at 6pm with music from our High School Honors Quartet, light appetizers and a cash bar.  Around 6:30 Dr. Marschhausen will begin his address.
Big Think Space First of its Kind in the Nation
We are proud to announce students are already working in our new "Think Big Space," a collaboration with Amazon Web Services (AWS). The "Think Big Space" is an educational environment that combines Hilliard's curriculum with AWS's cloud computing technology. Educational activities that take place in the space are designed to promote career awareness, business, engineering, entrepreneurship, technology, and design. Hilliard teachers will facilitate students' self-directed learning and develop best practices they can share across the district for implementation in all Hilliard classrooms. Learn why AWS selected Hilliard City Schools as the first district in the world to launch this new concept on the district web page.
Transition Resource Fair
Hilliard Schools will host a transition resource fair on October 23 from 5:30-7:30 at Davidson High School. This is free for students with developmental disabilities and their parents and is designed to assist with future planning for the student.  If you are looking for help in preparing your students for life after graduation this resource fair is for you.
Safe Schools Helpline
Later this month Hilliard Schools will begin to partner with Safe Schools Hotline. This is a free and confidential tool for our students to report threats of violence, illegal activity, or any activity they think can harm students or staff in our schools. There is a toll-free number students can call, or number they can text, or a web page where they can report their concerns and talk to a trained mental health counselor.
All students in grades K-12 will be bringing home a brochure in the coming week with more details. We will also be putting the information on all district-issued iPads and our web pages.
New Lunch Menus
We have some new online technology from the food service department.  Aramark has started to use Nutrislice for links to menus and nutritional info.  The websites for our menus are set up, and easy to navigate. These new menus will offer nutritional information and allergy information for our families.  They will also be available in multiple languages.
Meet the School Board Candidates Night
The Hilliard Inter-School PTO will host a Meet the Candidates Night for our community to hear from the five candidates vying for two open seats on the Hilliard City Schools Board of Education.  The event is on Wednesday, October 23, at 7 pm in the Bradley High School Auxiliary Commons.  This event is open to the public.