Bradley eNews – October 14-18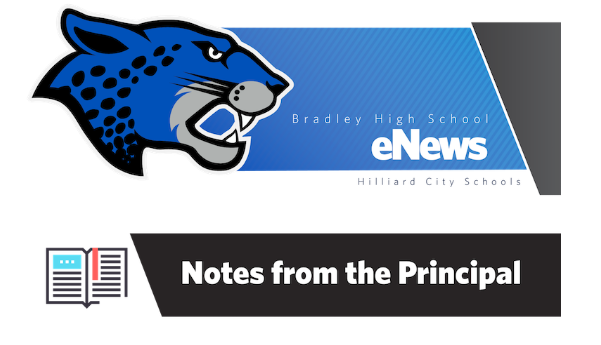 END OF THE GRADING PERIOD IS APPROACHING
This Thursday will wrap up the first quarter of the school year.  Please take a look at HOME ACCESS and make sure your child is up to date with assignments.  There may also be assessments or projects due this week.  If you have not yet scheduled a Parent/Teacher Conference, CLICK HERE.

WHAT'S HAPPENING AT BRADLEY
Class Ring Presentation for 10th grade    2nd period on Oct. 15
Senior Class Cap and Gown Presentation   3rd period on Oct. 15
Leadership Retreat Parent Meeting   Oct. 15  @ 7 p.m. in the commons
PSAT Testing   Oct. 16 @ 7:30 a.m.  See more information below
Parent Teacher Conferences   Oct. 16  CLICK HERE to schedule a conference
End of Grading Period    Oct. 17
No School for Students   Oct. 18
CLICK HERE to view our Bradley calendar for all events.

ATTENTION STUDENTS TAKING THE PSAT
Attention sophomore & junior parents! If your student signed up for the PSAT, this is a quick reminder that it is this Wednesday, October 16 at 7:40am. Students are to report directly to the fieldhouse with a no. 2 pencil and a calculator. This test is 2 hours and 55 minutes. If you have any questions, feel free to contact guidance at 921-7420. Students with approved accommodations will be notified on Monday of their testing location.
ATTENTION AP STUDENTS
Attention AP Students and Parents:  The payment period is now open for AP registration and will remain open until November 1st. Please pay for your AP exams ASAP. The preferred method of payment is through MyPaymentsPlus.  You can also bring in a check (payable to Hilliard City Schools) or cash to the guidance office. Please note, the process is new this school year and we are no longer using the paper forms to order AP exams. Paying for the exams is how an AP exam is ordered for each student.
SCHOOL COUNSELOR INFORMATION
Check out our School Counseling WEBSITE HERE.
On this site, you will find information on how to schedule a time to see your School Counselor and also see lots of college information.  Seniors – you will also be able to stay up to date on scholarships and other graduation information as they become available.
SENIORS – CLASS OF 2020
COLLEGE INFORMATION
Many of you have already started the process of applying to college.  Use THIS LINK for information on important dates and college rep visits to Bradley.
SENIOR PICTURE INFORMATION
Senior picture submissions are being accepted NOW for the 2019-2020 Yearbook! The deadline for submissions is Friday, December 13th, 2019, but why wait? Upload your senior photo NOW by going to our Bradley Yearbook website at http://is.gd/hbyearbook and filling out the google form linked under the "Senior Pictures" tab. The sooner the better!
If you want to purchase a yearbook for the 2019/2020 school year, go to  www.jostensyearbooks.com

A MESSAGE FROM OUR PTO
DID YOU KNOW:  Bradley has a PTO?  It does…and we need your help!  The PTO is fueled by fundraisers, donations and service hours, all essential to helping us provide student scholarships, teacher conference meals, our monthly free Cookie Days for students, and so much more.

Safe Schools Helpline
Later this month Hilliard Schools will begin to partner with Safe Schools Hotline. This is a free and confidential tool for our students to report threats of violence, illegal activity, or any activity they think can harm students or staff in our schools. There is a toll-free number students can call, or number they can text, or a web page where they can report their concerns and talk to a trained mental health counselor.
All students in grades K-12 will be bringing home a brochure in the coming week with more details. We will also be putting the information on all district-issued iPads and our web pages.
New Lunch Menus
We have some new online technology from the food service department.  Aramark has started to use Nutrislice for links to menus and nutritional info.  Thewebsites for our menus are set up, and easy to navigate.
Girls Tech Day Registration Deadline Today, Friday, October 11
Hilliard City Schools will host a free Girls' Tech Day in collaboration with Amazon Web Services on October 19th at Hilliard Bradley High School. Registration is now open. Please register your daughter today and sign up to volunteer. This event is open to Hilliard residents and other communities.
Girls' Tech Day is a one-day event designed to inspire and empower young girls from grades 3 to 12, and young women 18 to 24 years of age, to pursue interests and careers in technology.  It is a series of learning workshops focused on science, technology, engineering, art, and mathematics (STEAM).
We Need Your Input on the Master Facility Plan
This fall, the district will embark on a Master Facility Plan.  We want to get our community involved from the beginning.  So we are asking you to join us on October 20 at 6 pm at Darby High School.  This night will be an open with a short presentation of current and future trends in education, and small group discussions for you to share your vision of what a Hilliard education should look like in the future.
State of the Schools – Save the Date
We want to invite you to Dr. Marschhausen's sixth State of the Schools address on Thursday, October 24, 2019.  The event is sponsored by The Credit Union of Ohio and presented in partnership with The Hilliard Area Chamber of Commerce.  The address will take place at Heritage Golf Club.  From 6:00 pm – 6:30, we will have music provided by our High School Honors Quartet.  There will also be light appetizers and a cash bar.  Dr. Marschhausen's address will begin at 6:30.
Tolles Super Electives
Parents of 6-10th grade students, are you already thinking about college and career plans for your student? Attend an upcoming session to learn more about the "super electives" your kids can take later in high school with Tolles. Engineering & manufacturing, marketing & logistics, healthcare (pharmacy, nursing, exercise science, veterinary), computers (networking, cybersecurity, web design), art design & communication, digital media development, and more!  Learn more.
Meet the School Board Candidates Night
The Hilliard Inter-School PTO will host a Meet the Candidates Night for our community to hear from the five candidates vying for two open seats on the Hilliard City Schools Board of Education.  The event is on Wednesday, October 23, at 7 pm in the Bradley High School Auxiliary Commons.  This event is open to the public.
Child Find
Hilliard Schools is responsible for locating any child birth through 21 with a suspected disability who resides within the Hilliard School District.   The school district provides special education services to any child who qualifies as having a disability according to the Individuals with Disabilities Education Improvement Act (IDEIA) or Section 504 of the Rehabilitation Act ages 3 through 21 years of age.  If you know of a child who is suspected to have a disability, please call Debbie Cochran, Director of Special Education, at 614-921-7000 or contact your building principal for more information.
Detección de Niños
Las Escuelas de Hilliard son responsables de localizar a cualquier niño desde su nacimiento hasta los 21 años de edad que se sospeche discapacitado y él cual resida dentro de los limites del Distrito Escolar de Hilliard.  El Distrito Escolar proporciona servicios de Educación Especial a cualquier niño que califique como tal, de acuerdo con la Ley del Mejoramiento Educativo pará los Individuos con Discapacidades (IDEIA de acuerdo con sus siglas en ingles) o la Sección 504 de la Ley Rehabilitación para las edades comprendidas entre los 3 hasta los 21 años de edad.  Si Usted conoce a algún niño con discapacidades o tiene la sospecha de que sufre de alguna, por favor comuníquese con la Señora Debbie Cochran, Directora de Educación Especial,  al teléfono 614-921-7000  o contáctese con el Director de la Escuela correspondiente a su área para mas información.