Bradley eNews – November 18-22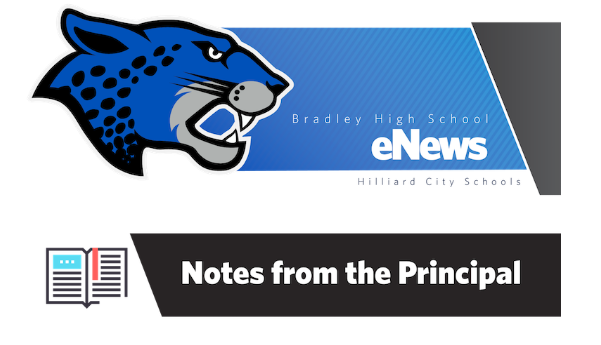 TOLLES VISITS ARE COMING
In effort to increase career awareness and opportunities available to students in the Hilliard City School District, All 9th and 10th grade students within Hilliard City Schools will be visiting Tolles Career & Technical Center.  This opportunity will allow students the to be exposed to in-demand career fields and allow them a jump start on their career endeavors.
9th grade will attend on November 22 and 10th grade will attend on November 25.  More detailed information will come to your student's Canvas page announcements.

WHAT'S HAPPENING AT BRADLEY
Nov. 21   Fall Band Concert @ 7 p.m.
Nov. 22   9th grade Tolles visit during the school day
Nov. 23-24   Bradley Leadership Retreat @ Camp Willson
Nov. 25   10th grade Tolles visit during the school day
Nov. 27 – Dec. 1   No School . Thanksgiving Break
CLICK HERE to view our Bradley calendar for all events.

SCHOOL COUNSELOR INFORMATION
Check out our School Counseling WEBSITE HERE.
On this site, you will find information on how to schedule a time to see your School Counselor and also see lots of college information.  Seniors – you will also be able to stay up to date on scholarships and other graduation information as they become available.
SENIORS – CLASS OF 2020
College application deadlines are fast approaching!  Below is a list of things that must be finished by the deadline
Completed application – Submitted
ACT/SAT scores sent directly to the institutions from the testing agency.  Hilliard does not send ACT/SAT scores to colleges.
Turn in a "transcript authorization" form to the guidance department
Request transcripts in Naviance
Request letters of recommendation in Naviance
Deadlines are fast approaching! – Once you (student) have completed your application, go ahead and submit!  Do not wait until the last minute!  Counselors are working to make sure all transcripts are submitted by the deadline.***
Use THIS LINK for more information about your senior year that includes important dates in preparing for graduation. 
Use THIS LINK for more information about college and career planning.
SENIOR PICTURE INFORMATION
Senior picture submissions are being accepted NOW for the 2019-2020 Yearbook! The deadline for submissions is Friday, December 13th, 2019, but why wait? Upload your senior photo NOW by going to our Bradley Yearbook website at http://is.gd/hbyearbook and filling out the google form linked under the "Senior Pictures" tab. The sooner the better!
If you want to purchase a yearbook for the 2019/2020 school year, go to  www.jostensyearbooks.com

A MESSAGE FROM OUR PTO
There is still time to Join us at Chipotle on Hilliard-Rome Road on Sun. Nov. 17th for Spirit Night! The PTO will receive a percentage of all sales between 4:00 p.m. and 8:00 p.m with your flyer!
We need your help! Please sign up to bring in 4 doz/48 treats for Student Treat Day on Wed., Nov. 20th! Sign up here.  All treats must be individually wrapped and any treat containing nuts should be labeled so we can avoid any issues for students with allergies. Fresh-baked or store-bought treats are requested.
Did you know that when you shop for the holidays at smile.amazon.com/ch/26-3979155, AmazonSmile donates to Hilliard Bradley High School PTO?
Do you shop at Kroger? Register your Kroger Plus card and a percentage of your purchases will be donated to the PTO. Click here to learn more.
Want to donate to a worthy cause? Consider making a donation to the Hilliard Bradley PTO through our PayPal Giving Fund. Donations are tax deductible and 100% of proceeds are given to the PTO!
Our next PTO meeting is Tue., Dec. 3rd at 7:00 p.m. in the Media Center at Bradley High School. All Bradley parents and guardians are welcome and encouraged to attend.
Visit the Bradley PTO web page to learn more about how you can help support PTO.

Online Master Facility Plan Meeting
This week we hosted our first district online community meeting.  You should have received an email with all the details.  There is still time to participate.  All the materials are located on the newly created Master Facility Plan webpage.  There is a short video with the superintendent, a presentation and most importantly a survey so we can hear from our community.
Applications for Athletic Study Group
Dr. John Marschhausen is convening an Athletic Study Group to examine the purpose of middle and high school athletics.  The group will tentatively meet four times, between January and March. There will be time for small group discussions between meetings. If you are interested in applying to be part of the Hilliard Athletic Study Group, please complete the online application.
Parent Mentor
Mr. Jeff Sloat has been hired as the new Parent Mentor for Hilliard City Schools. Jeff holds a Master's degree in social work and is independently licensed in Ohio. His career has been focused on helping underdogs, and he brings a heart to serve and strong advocacy skills to the Parent Mentor role.   You can find more information about Jeff and how to contact him on our web page.
Be Well Winter Book Talks
As we make plans to join the Dublin City Schools for Be Well – A Parent University on February 29, 2020 we will host several book talks in each district focused on The Gift of Failure by Jessica Lahey.  Please make plans to attend one of these talks which will be facilitated by an administrator from each district.