Bradley eNews – November 11-15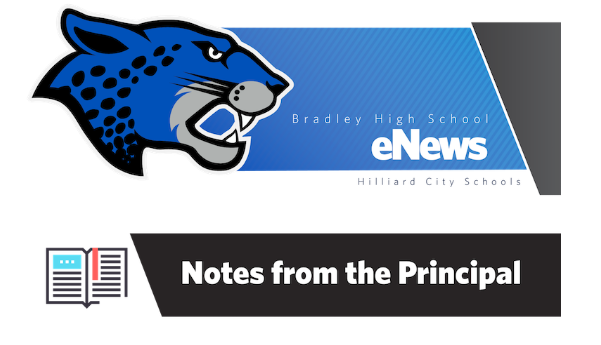 TO OUR NEW NHS INDUCTEES
Bradley inducted 53 new members to its National Honor Society Chapter this week.  Congratulations to those students who represent the four pillars of the NHS: Scholarship, Leadership, Service, and Character!

WHAT'S HAPPENING AT BRADLEY
Nov. 11   Winter Athletic Parent Meeting   6 p.m. @ Bradley
Nov. 11  Athletic Booster Meeting   7 p.m.
Nov. 12   Theater Booster Meeting   7 p.m.
Nov. 12   Bradley Blood Drive   2:45-8 p.m. at Bradley
Nov. 15 – 17  The Haunting of Hill House Production  PURCHASE TICKETS HERE
CLICK HERE to view our Bradley calendar for all events.

SCHOOL COUNSELOR INFORMATION
Check out our School Counseling WEBSITE HERE.
On this site, you will find information on how to schedule a time to see your School Counselor and also see lots of college information.  Seniors – you will also be able to stay up to date on scholarships and other graduation information as they become available.
SENIORS – CLASS OF 2020
College application deadlines are fast approaching!  Below is a list of things that must be finished by the deadline
Completed application – Submitted
ACT/SAT scores sent directly to the institutions from the testing agency.  Hilliard does not send ACT/SAT scores to colleges.
Turn in a "transcript authorization" form to the guidance department
Request transcripts in Naviance
Request letters of recommendation in Naviance
Deadlines are fast approaching! – Once you (student) have completed your application, go ahead and submit!  Do not wait until the last minute!  Counselors are working to make sure all transcripts are submitted by the deadline.***​​​​​​​
Use THIS LINK for more information about your senior year that includes important dates in preparing for graduation. 
Use THIS LINK for more information about college and career planning.
SENIOR PICTURE INFORMATION
Senior picture submissions are being accepted NOW for the 2019-2020 Yearbook! The deadline for submissions is Friday, December 13th, 2019, but why wait? Upload your senior photo NOW by going to our Bradley Yearbook website at http://is.gd/hbyearbook and filling out the google form linked under the "Senior Pictures" tab. The sooner the better!
If you want to purchase a yearbook for the 2019/2020 school year, go to  www.jostensyearbooks.com

A MESSAGE FROM OUR PTO
Last Chance to Order Your Parents/Grandparents Spirit Wear! – Orders will be accepted until  Sunday, November 10th 11:59 p.m. (CST)
Chipotle Spirit Night! on Sun., Nov. 17th! 4:00 p.m. to 8:00 p.m – You must show the Flyer at time of purchase GO JAGS!!
November Student Treat Day is Nov. 20th – Parents/Guardians Please Sign Up!!  We need your help to provide a sweet treat for our kids each month. Not a baker? No problem! Store bought, prepackaged treats are fine too. Just be sure the treats are individually wrapped to avoid any issues with allergies.
The next PTO meeting is Tues., Dec. 3rd in the Media Center. All parents/guardians are welcomed and encouraged to attend. We are always in need of help supporting our students and staff!
Visit the Bradley PTO web page to learn more about how you can help support PTO.

Master Facility Plan ThoughtExchange Results
After our first round of Master Facility Plan meetings we have created a ThoughtExchange for those unable to join us at the meetings.  We know the success of this long term plan relies on community and staff input.  We'd like to share the results of this first ThoughtExchange for you to read.  Please keep an eye out for future surveys and ThoughtExchanges, we don't want you to miss out on giving us your opinions.
We also have a web page dedicated to the Master Facility Plan so you can get information whenever you want.  We have meeting dates, presentations and frequently asked questions located here.
Be Well Winter Book Talks
As we make plans to join the Dublin City Schools for Be Well – A Parent University on February 29, 2020 we will host several book talks in each district focused on The Gift of Failure by Jessica Lahey.  Please make plans to attend one of these talks which will be facilitated by an administrator from each district.
January 7, 6:30-7:30pm at the Emerald Campus – Dublin
January 16, 6:30-7:30pm at the Innovation Hub – Hilliard
January 18, 9-10am at Glacier Ridge – Dublin
January 21, 6:30-7:30 at Tharp – Hilliard
January 29, 6:30-7:30 at Jerome – Dublin
February 8, 9-10am at the Hilliard Public Library
Keep watching our web page and the district eNews for more details.