Bradley eNews – May 4-8, 2020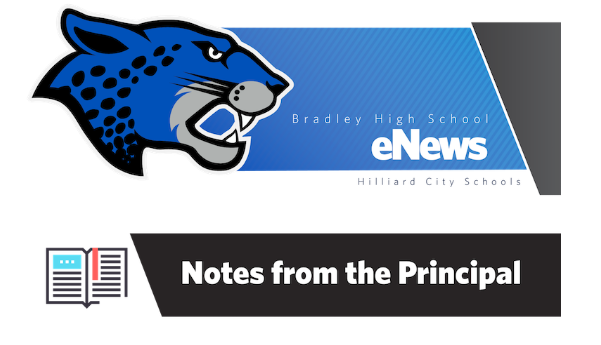 VIRTUAL PROM – ONE HILLIARD!
I am excited to announce that an additional event is being offered for our juniors and seniors…A Virtual Prom.  Please note that we have not given up on the idea of possibly having an actual prom (either on site or off site) this summer.  However, we want to provide an opportunity for our students to dress up, dance and make memories.  This is an "All Hilliard Virtual Prom", along with Davidson and Darby, and it will be held on May 9, from 8:00 PM – 9:30 PM.  Plan to get dressed up and spend the evening with your friends online at our Virtual Prom.  Juniors and Seniors will receive information in Canvas.
AP TESTING IS COMING  – PARENTS PLEASE READ 
AP Testing will be Monday, May 11th-Friday May 22nd. The exam schedule is on the following link: https://apcoronavirusupdates.collegeboard.org/students/taking-ap-exams/ap-exam-schedule
AP students need to review their College Board user profiles. To ensure AP students are receiving critical information, make sure they log in to My AP .  Use the email address and cell phone number that was asked by the College Board to use. Students can change how we contact them. Two days before each exam, AP students will receive an email with a personalized e-ticket that will include their eight-character AP ID code. If an AP student still doesn't receive the email, they'll be able to access their e-ticket directly through My AP.
Students, get plenty of rest, prepare adequately and charge the device that you are planning on using the day before your exam. Log in 30 minutes prior to your exam. Organization can be difficult at home. I would suggest that you set an alarm in your phone. If you have any questions please reach out to your AP teacher. If they are not able to answer your question please reach out to Mrs. Holt at krista_holt@hboe.org or Debbie_barie@hboe.org. Good luck!

IMPORTANT DATES COMING UP FOR OUR SENIORS
Virtual Athletic Signing – Week of May 11-15
Seniors Last Day of Classes – May 15
iPad Turn in (and other materials) May 15 – specific times and details on Canvas
Virtual Academic/Military Signing – May 15 –  link will be posted online
Virtual Senior Scholarship Night  – May 15 – link will be posted online
Virtual Graduation Ceremony – May 21 @ 7 p.m.
Diploma Pick Up – May 21 – We are making some adjustments to this day,  Stay tuned for specific times and details on Canvas. 
Keep in mind that it is STILL our hope to bring The Class of 2020 together this summer.  When we know it is safe to celebrate in-person, we will communicate those details to you.  
YEARBOOKS ANYONE?
QUESTIONS FOR ALL STUDENTS
If you or your student has a question, we have many avenues available to get answers. 
The links below are for general questions that cannot be answered by your teacher or counselor.  We have organized these forms according grade level:
The TECHNOLOGY LINK can help if you are having iPad issues.
CLICK HERE FOR MORE INFORMATION if your child is struggling emotionally.  Our School Counselors are available and have office hours to meet with your child.
This link below will provide any other information you may need:
CORONAVIRUS UPDATES AND E-LEARNING

Here is today's district update from Superintendent John Marschhausen including an update on Graduations, attendance protocols, and staff appreciation week.
Fall Online Learning Survey
As we prepare for school in the fall, we are asking parents to take a quick survey.  We are working on a variety of options to keep families safe. One of those options includes complete online learning at home next year for K-12 students. While we are not asking for a commitment at this time, we would like to begin to gauge the size of our full-time online program for next year.  If youare or may be interested in full-time online learning in the fall please fill out this survey.  This will help us to begin building our schedules. Thank you so much.
School Buildings Closed until End of June
On April 29, 2020 Dr. Amy Acton, Director of the Ohio Department of Health, issued an order that all school buildings, K-12, will remain closed to students until June 30, 2020.  We expect more guidance on this order in the near future.
Elementary Math Help
Helping to support your child's development in math is crucial to their success in school and in life.  We have developed an Elementary Math parent help page to assist our families.  On this page, you can find answers to common questions, spread ideas, and find resources that may help at home.
Thank A Teacher
Hilliard City Schools is fortunate to have many wonderful teachers in our schools that care about students. In recognition of these educators and in cooperation with National Teacher Appreciation Week, the Hilliard Education Foundation wants to show our outstanding teachers and staff the love and appreciation they deserve.
Together, we can "Thank a Teacher!"
Here is your chance to let the teachers and staff who made a difference in your life know that they matter. Simply visit the Hilliard Education Foundation website to recognize up to three teachers or staff members per entry.  We will deliver your personalized message of appreciation to the staff member and copy the principal as well!  No donation is required to participate in this opportunity.  However, if you'd like to make a donation in the teacher's name, you will enhance innovative learning experiences for students through classroom learning grants and student scholarships.