Bradley eNews – May 18-22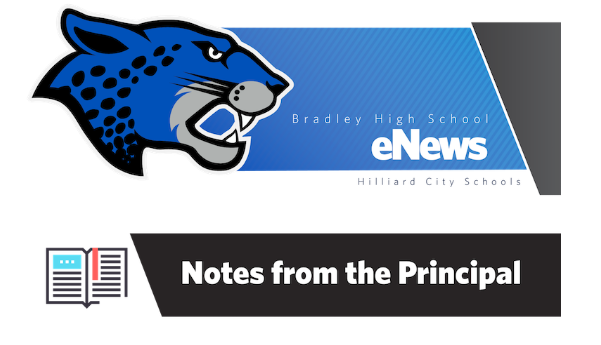 AP TESTING CONTINUES
AP Testing will continue through Friday May 22nd. The exam schedule is on the following link: https://apcoronavirusupdates.collegeboard.org/students/taking-ap-exams/ap-exam-schedule
AP students need to review their College Board user profiles. To ensure AP students are receiving critical information, make sure they log in to My AP .  Use the email address and cell phone number that was asked by the College Board to use. Students can change how we contact them. Two days before each exam, AP students will receive an email with a personalized e-ticket that will include their eight-character AP ID code. If an AP student still doesn't receive the email, they'll be able to access their e-ticket directly through My AP.
Students, get plenty of rest, prepare adequately and charge the device that you are planning on using the day before your exam. Log in 30 minutes prior to your exam. Organization can be difficult at home. I would suggest that you set an alarm in your phone. If you have any questions please reach out to your AP teacher. If they are not able to answer your question please reach out to Mrs. Holt at krista_holt@hboe.org or Debbie_barie@hboe.org. Good luck!

IMPORTANT DATES TO REMEMBER
Friday May 22    Last Official Day of New of E-Learning (there will still be time the following week for students to complete assignments if required by teacher)
Monday May 25   Memorial Day – no class
Tuesday May 26  11th grade iPad collection
Wednesday May 27  10th grade iPad collection
Thursday May 28  9th grade iPad collection and Make up time
INFORMATION FOR IPAD AND TEXTBOOK COLLECTION
 Check out the information below for important instructions on how to return your iPad and other materials.
Ipad and Other School Materials Return 
THERE IS STILL TIME TO PURCHASE A YEARBOOK
 As we all adapt to change, one thing that remains constant is the yearbook tradition of documenting the history of our students and our school year. We are pleased to announce that our yearbook adviser and staff are working hard to complete the yearbook and make sure it is printed.
Since copies are limited and school schedules continue to change, we ask that you please order your yearbook online as soon as possible. Deadline for ordering is June 1st, 2020.
Click on the web link below to CAPTURE HISTORY with the 2020 Yearbook!
http://jostensyearbooks.com/?REF=A01106381
 (please disregard if you have already purchased a yearbook for your student)

Changes in our Grab-and-Go Lunch Program
 With everything going on at our buildings that last week with iPad drop-off and personal items pickup, we will be adjusting our meal services.
Friday, May 22nd will be our last day of service at Memorial, Weaver and our meal deliveries.
On Tuesday, May 26th we will serve at Ridgewood and Scioto Darby only, as the other schools will be  having their collection day.
On Wednesday, May 27th we will serve at Beacon, Crossing, and Horizon only, as the other schools will be having their collection day.
On Thursday, May 28th and Friday, May 29th we will serve at Beacon, Crossing, Horizon, Ridgewood and Scioto Darby.
Friday, May 29th will be our last day of meal service.  Son Ministries will be serving lunches at these same five elementary buildings beginning approximately Monday, June 15th.
Remember, families can still attend any grab-and-go location and get meals for any student under the age of 18.
SNAP Benefits Updates-Free and Reduced Price Meal Program-Summer
 Governor DeWine announced that the UDSA approved Ohio's Pandemic EBT plan.  The approval will allow OJFS to distribute SNAP benefits to 850,000 students across Ohio who relied on free or reduced-price meal programs when school was in session.  The benefits will be mailed directly to students, and families do not need to apply to be eligible.   Families will receive approximately $300 to purchase healthy and nutritious foods to feed their children and more than $250 million that will go to our grocery stores and other eligible retailers through this benefit.
Hello from our Bus Drivers
It's not just our teachers and principals who miss our students, it's our bus drivers! They are the first to say hello to children and the last to say goodbye each day. They really miss their students that they have gotten to know so well this year, and just wanted to say hello!
Grading Practice for the Remainder of the 2019/20 School Year
 Hilliard Schools is proud of the continued learning during this time.  Our students are in attendance and doing assignments every day.  While it hasn't been ideal, we have maintained our focus on the whole child, including academics, interests and mindset.
Knowing our students and families have been living in a national crisis we are committed to making sure eLearning does not have an adverse impact on a student's final grade.  Here are the district's plans for issuing end of the year grades.
Secondary Report Card
4th Quarter Grades and Semester Grades (Grades 6-12)
Our grading procedure will remain unchanged for the 4th quarter. Students will receive letter grades as they normally would if learning was taking place inside our school buildings.
If a student has a lower 4th quarter grade than what they earned for the 3rd quarter, the student will receive the higher 3rd quarter as their semester grade.
 If a student has a higher 4th quarter grade than the 3rd quarter grade, the student's semester grade will be a calculation of both quarters (each quarter counts as 50% of semester grade).
There will be no final exams administered, no state and no district testing.
Elementary Progress Report
For Marking Period 3 of this school year, teachers will create a brief summary of each student in the comments section and include the following:
Student's strengths
Student's area of focus for improvement
Student's progress towards grade level expectations prior to eLearning
Recommendation for maintaining skills over the summer
We will not be issuing final marks for elementary students.
Related Arts
Teachers will utilize the prepared comments on report cars and may add additional comments for individual students when warranted.
Intervention Specialists
IEP Progress Reports will include:
Details about your students' IEP goals and how objectives have continued to be monitored for progress during eLearning.
The progress your students made during the end of the 2019-2020 school year will be detailed in the IEP progress report.