Bradley eNews – January 6-10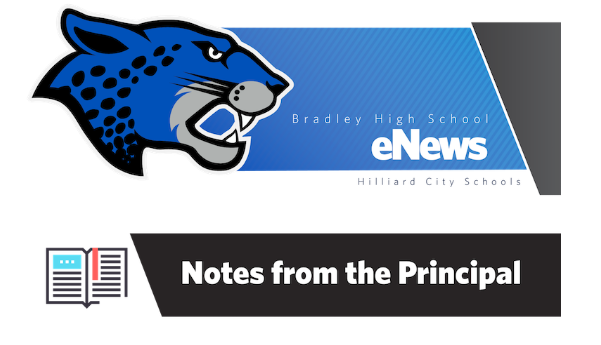 HAPPY NEW YEAR!
We hope you enjoyed Winter Break!  Students will begin their 2nd semester classes tomorrow.  Students can see their 2nd semester schedules on HOME ACCESS.  Remember to keep up with your student's work on CANVAS.  It's a great time for a fresh start!  Contact your child's teacher if you have questions.
Grades for 2nd quarter and first semester will be posted on HOME ACCESS on January 10 at 5 p.m.
BE WELL- A PARENT UNIVERSITY EVENT
The Hilliard and Dublin City Schools are joining forces again this year to shine a spotlight on student mental health with "Be Well: A Parent University Event" on February 29, 2020.  Here is a short video from our superintendent, Dr. Marschhausen.  Leading up to the main event we will host a round of book talks on The Gift of Failure, by Jessica Lahey.  Registration is now open, please pick a date and sign up now!
I hope you make plans now to join me at this wonderful community event.

WHAT'S HAPPENING AT BRADLEY
Jan. 6   It's the start of 2nd semester
Jan. 7 @ 7 p.m.  PTO Meeting in the Media Center
Jan. 13 @ 7 p.m.  Athletic Booster Meeting
Jan. 14 @ 7 p.m.  Theater Booster Meeting
Jan. 15 @  7 p.m.  8th grade Parent Meeting
CLICK HERE to view our Bradley calendar for all events.

SCHOOL COUNSELOR INFORMATION
Check out our School Counseling WEBSITE HERE.
On this site, you will find information on how to schedule a time to see your School Counselor and also see lots of college information.  Seniors – you will also be able to stay up to date on scholarships and other graduation information as they become available.
SENIORS – CLASS OF 2020
COLLEGE APPLICATION INFORMATION
Below is a list of things that must be finished in order to apply to college.
Completed application – Submitted
ACT/SAT scores sent directly to the institutions from the testing agency.  Hilliard does not send ACT/SAT scores to colleges.
Turn in a "transcript authorization" form to the guidance department
Request transcripts in Naviance
Request letters of recommendation in Naviance
Deadlines are fast approaching! – Once you (student) have completed your application, go ahead and submit!  Do not wait until the last minute!  Counselors are working to make sure all transcripts are submitted by the deadline.***
Use THIS LINK for more information about your senior year that includes important dates in preparing for graduation. 
Use THIS LINK for more information about college and career planning.

A MESSAGE FROM OUR PTO
Do you shop at Kroger? Register your Kroger Plus card and a percentage of your purchases will be donated to the PTO. Click here to learn more.
Want to donate to a worthy cause? Consider making a donation to the Hilliard Bradley PTO through our PayPal Giving Fund. Donations are tax deductible and 100% of proceeds are given to the PTO!
Visit the Bradley PTO web page to learn more about how you can help support PTO.