Bradley eNews – February 18-21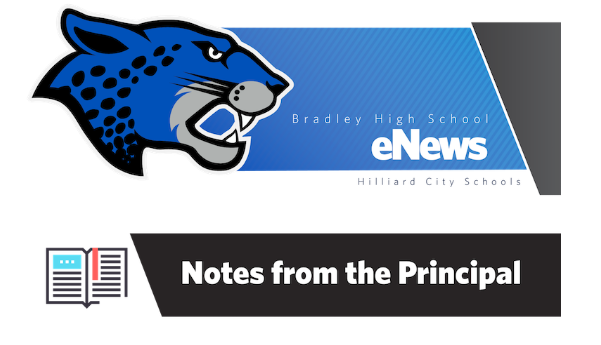 THANKS FOR VISITING US LAST WEEK
Thank you to those that came to visit last week during our conference night.  We hope that you learned valuable information to help your child continue to succeed in class.  Don't hesitate to reach out via email to your child's teachers if you have more questions…third quarter ends March 20!

WHAT'S HAPPENING AT BRADLEY
Feb. 28-Mar. 1    Theater One Acts   Purchase TICKETS HERE
Feb. 29   Be Well – A Parent University.  More Information HERE
CLICK HERE to view our Bradley calendar for all events.

FEBRUARY IS DIGITAL WELLNESS MONTH
February is Digital Wellness month in Hilliard City Schools. Each week we will take a look at a different topic. Go to the Digital Wellness page below to see some activities that families could use at home around being healthy and safe in the digital world.
Family Activities for Etiquette – It's Cool to Be Kind
SCHOOL COUNSELOR INFORMATION
Check out our School Counseling WEBSITE HERE.
On this site, you will find information on how to schedule a time to see your School Counselor and also see lots of college information.  Seniors – you will also be able to stay up to date on scholarships and other graduation information as they become available.
SENIORS – CLASS OF 2020
It's time for Scholarship Applications!
Scholarships can be found on your Naviance account under Colleges > Scholarships > Scholarship List.  Scholarships are added as we receive them in the guidance office.  Many local community scholarship applications are active.  Check back frequently and check announcements for updates.
Use THIS LINK for more information about your senior year that includes important dates in preparing for graduation.
Use THIS LINK for more information about college and career planning.
COLLEGE APPLICATION INFORMATION
Below is a list of things that must be finished in order to apply to college.
Completed application – Submitted
ACT/SAT scores sent directly to the institutions from the testing agency.  Hilliard does not send ACT/SAT scores to colleges.
Turn in a "transcript authorization" form to the guidance department
Request transcripts in Naviance
Request letters of recommendation in Naviance
Deadlines are fast approaching! – Once you (student) have completed your application, go ahead and submit!  Do not wait until the last minute!  Counselors are working to make sure all transcripts are submitted by the deadline.***
BUY YOUR YEARBOOK TODAY
No matter your current perception of high school, a yearbook is a timeless keepsake that you will look back at for the rest of your life. There's nothing from high school that will be as special as a yearbook as it allows you to look back on your experience and remember people and events you would have otherwise forgotten. It's a small price for such a monumental archive of memories. Don't let yourself grow old wish you had bought a yearbook. Buy your yearbook today! Click here to buy the 2020 Yearbook on the Jostens website.

A MESSAGE FROM OUR PTO
Our next Cookie Day is Wednesday, March 18th. We need volunteers to bring in 4 dozen (48 ct.) individually wrapped baked goods, fresh-baked or store-bought. To provide a cookie for each of our more than 1,700 students, we need A LOT of volunteers to pull it off. Please help!
Do you shop at Kroger? Register your Kroger Plus card and a percentage of your purchases will be donated to the PTO. Click here to learn more
Support the Bradley PTO through our PayPal Giving Fund. Donations are tax deductible and 100% of proceeds support our students and teachers.
Like to shop online? Check out Smile.Amazon and learn how a portion of your purchases can benefit the the PTO.
Visit the Bradley PTO web page or email us at HilliardBradleyPTO@gmail.com

Be Well Registration Open
 On February 29, the Hilliard and Dublin City Schools will again present Be Well – A Parent University Event.  This day of programming will take place at both Hilliard Darby High School and Dublin City Schools' Emerald Campus.
Sessions will start at 8am at Darby, and 11am at the Emerald Campus.  There will be one keynote this year, Author Jessica Lahey.  She will speak about her book, The Gift of Failure, at 9am at Darby.  There are still two book talks left to discuss her book, one on January 29, and the other is February 8.  You can still register for one talk.
Registration is now open.  The course catalog is online, so you can take some time to plan which sessions you want to attend.  Families are able to attend in Hilliard or Dublin, pick which course fits your busy schedule.  You can also sign up for a free lunch if you would be in Hilliard over the lunch hour.
As part of the Be Well this year, Dawson will host the "Ready for Tomorrow Career & College Expo" from 10:00am until 12:30pm in the Darby gymnasium.  There will be opportunities for students and parents to connect with businesses such as OhioHealth, BMW Financial Services and Columbus Street Financial Planning.
Hilliard Diversity Coordinator Named Ohio Teacher Leader
Please join us in congratulating Janet Monseur-Durr for being selected as an Ohio Teacher Leader Liaison for a two-year commitment from the Ohio Department of Education. She is recognized for her leadership practices and her inspiration to others who strive for excellence in this noble profession of education.