Bradley eNews – February 10-13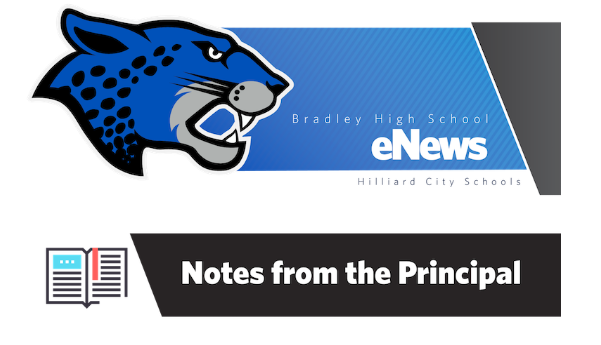 CONFERENCES ARE THIS WEEK
Parent Teacher conferences are being held on Wednesday February 12 from 3-8 p.m.  Once again, we are using Signup Genius to schedule those conferences.  CLICK HERE to see available times.
Also, are you interested in learning more about our amazing Art Department?  Join our Art Teachers on Conference Night to learn more about the program and even create some art!  See below for more details.

WHAT'S HAPPENING AT BRADLEY
Feb. 10   6:30-8 p.m. @ Marysville High School   NW 33 Corridor College Fair
Feb. 12   3-8 p.m.  Parent Teacher Conferences
Feb. 14  No School
Feb. 17   No School
CLICK HERE to view our Bradley calendar for all events.

FEBRUARY IS DIGITAL WELLNESS MONTH
February is Digital Wellness month in Hilliard City Schools. Each week we will take a look at a different topic. Go to the Digital Wellness page below to see some activities that families could use at home around being healthy and safe in the digital world.
Family Activities for Citizenship – Be Elite
SCHOOL COUNSELOR INFORMATION
Check out our School Counseling WEBSITE HERE.
On this site, you will find information on how to schedule a time to see your School Counselor and also see lots of college information.  Seniors – you will also be able to stay up to date on scholarships and other graduation information as they become available.
SENIORS – CLASS OF 2020
It's time for Scholarship Applications!
Scholarships can be found on your Naviance account under Colleges > Scholarships > Scholarship List.  Scholarships are added as we receive them in the guidance office.  Many local community scholarship applications are active.  Check back frequently and check announcements for updates.
Use THIS LINK for more information about your senior year that includes important dates in preparing for graduation.
Use THIS LINK for more information about college and career planning.
COLLEGE APPLICATION INFORMATION
Below is a list of things that must be finished in order to apply to college.
Completed application – Submitted
ACT/SAT scores sent directly to the institutions from the testing agency.  Hilliard does not send ACT/SAT scores to colleges.
Turn in a "transcript authorization" form to the guidance department
Request transcripts in Naviance
Request letters of recommendation in Naviance
Deadlines are fast approaching! – Once you (student) have completed your application, go ahead and submit!  Do not wait until the last minute!  Counselors are working to make sure all transcripts are submitted by the deadline.***
Buy Your 2020 Yearbook TODAY!
No matter your current perception of high school, a yearbook is a timeless keepsake that you will look back at for the rest of your life. There's nothing from high school that will be as special as a yearbook as it allows you to look back on your experience and remember people and events you would have otherwise forgotten. It's a small price for such a monumental archive of memories. Don't let yourself grow old wish you had bought a yearbook. Buy your yearbook today! Click here to buy the 2020 Yearbook on the Jostens website.

A MESSAGE FROM OUR PTO
Our next Cookie Day is Wednesday, March 18th. We need volunteers to bring in 4 dozen (48 ct.) individually wrapped baked goods, fresh-baked or store-bought. To provide a cookie for each of our more than 1,700 students, we need A LOT of volunteers to pull it off. Please help!
Our next Spirit Night is Tuesday, February 11, 2020 at McAlister's Deli (in front of Meijer near Starbucks)  5:00 p.m. – 10:00 p.m. with flyer. Grab a bite to eat and support the PTO at the same time!
Do you shop at Kroger? Register your Kroger Plus card and a percentage of your purchases will be donated to the PTO. Click here to learn more.
Support the Bradley PTO through our PayPal Giving Fund. Donations are tax deductible and 100% of proceeds support our students and teachers.
Like to shop online? Check out Smile.Amazon and learn how a portion of your purchases can benefit the the PTO.
Visit the Bradley PTO web page or email us at HilliardBradleyPTO@gmail.com

Master Facility Plan Community Survey
As part of the district's Master Facility Plan work we know we must engage our families.  We want to answer your questions, gather your input and hear your concerns.  We also know how busy everyone is, and realize it's difficult to attend meetings.
For this reason we are asking you to take time, whenever you can find it, to take part in a survey, which was developed after months of research from our Master Facility Plan Steering Committee. We have a video you can watch that walks you through our district scenarios and options. Those options are located on the Master Facility Plan webpage, under documents.
The webpage also contains all the information the Steering Committee has worked on over the past several months, including presentations, documents and a glossary of terms. You can access this information on any device in your own time.
Be Well Registration Open
 On February 29, the Hilliard and Dublin City Schools will again present Be Well – A Parent University Event.  This day of programming will take place at both Hilliard Darby High School and Dublin City Schools' Emerald Campus.
Sessions will start at 8am at Darby, and 11am at the Emerald Campus.  There will be one keynote this year, Author Jessica Lahey.  She will speak about her book, The Gift of Failure, at 9am at Darby.  There are still two book talks left to discuss her book, one on January 29, and the other is February 8.  You can still register for one talk.
Registration is now open.  The course catalog is online, so you can take some time to plan which sessions you want to attend.  Families are able to attend in Hilliard or Dublin, pick which course fits your busy schedule.  You can also sign up for a free lunch if you would be in Hilliard over the lunch hour.
As part of the Be Well this year, Dawson will host the "Ready for Tomorrow Career & College Expo" from 10:00am until 12:30pm in the Darby gymnasium.  There will be opportunities for students and parents to connect with businesses such as OhioHealth, BMW Financial Services and Columbus Street Financial Planning.
Fulbright Award Recipient and Grad Inspires our Students
Just before leaving for England to take part in the Fulbright Fellowship, 2014 Hilliard Davidson graduate Chloe Shevlin took the time to speak to the school's Women in Engineering (WIE) group.  You can read more about Chloe's journey and why she feels it's important to give back to the district that prepared her to be Ready for Tomorrow.
 Summer Plans for District Sports
As a parent, scheduling time during the summer for family vacations can be challenging with sports schedules. The Hilliard City School District is blessed to have dedicated, passionate coaches willing to create opportunities for our athletes during the summer months. Our summer conditioning programs, camps, and leagues keep our students involved, reinforce a strong work ethic, and create a team culture.
As our middle and high school families consider plans for the summer, please know we have two district expectations.  We have discussed these expectations with our athletic departments and outlined them on our web page for our families.
 Keep Children Home when Sick
We know this time of year there a lots of illnesses going around, from the common cold to the Flu.  In an effort to stop the spread of illness, we want to remind you of the district policy that a student needs to be fever free, without medicine, for 24 hours and vomiting/diarrhea free for 24 hours before returning to school.   Please help us in keeping our students and staff healthy!