Bradley eNews – April 27-May 1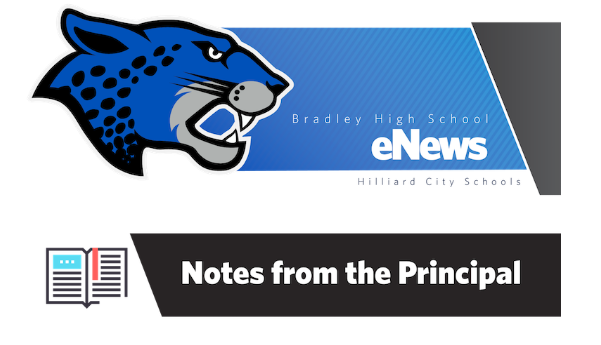 CELEBRATING OUR SENIORS
Senior families should have received a letter this week with some information about the closing of the 19-20 school year for our Class of 2020.  In addition, this information can be found on the Senior Canvas page, as well as the Bradley Website.  We understand that this is a very emotional time for our Seniors and families as these activities have been long standing traditions for our seniors.  Believe me when I say that we are as devastated as you all are!   Just yesterday, the Ohio Department of Education issued the statement, "school leaders should conduct graduation ceremonies and other recognition events in a remote manner that honors each student in a safe and responsible way, prioritizing the health needs of students, their families and the community."
Thank you for your understanding and your support as we try to conduct these activities within the guidelines we are given.  As this situation is a moving target, we will continue to update you should the situation change and allow us to conduct these events in person.
VIRTUAL PROM – ONE HILLIARD!
I am excited to announce that an additional event is being offered for our juniors and seniors…A Virtual Prom.  Please note that we have not given up on the idea of possibly having an actual prom (either on site or off site) this summer.  However, we want to provide an opportunity for our students to dress up, dance and make memories.  This is an "All Hilliard Virtual Prom", along with Davidson and Darby, and it will be held on May 9, from 8:00 PM – 9:30 PM.  Students will receive more information as the date gets closer, as well as information on voting for Prom Court.  Check out your Canvas page to vote…it starts tomorrow!  Please CLICK HERE to learn more about this opportunity!

Read the SENIOR LETTER HERE  that was mailed home to families this week.
Cap and Gown Pick Up – April 30th 5:30 – 8 p.m. – check specific times and details on Canvas
Virtual Athletic Signing – Week of May 11-15
Seniors Last Day of Classes – May 15
iPad Turn in (and other materials) May 15 – specific times and details on Canvas
Virtual Academic/Military Signing – May 15 –  link will be posted online
Virtual Senior Scholarship Night  – May 15 – link will be posted online
Virtual Graduation Ceremony – May 21 @ 7 p.m.
Diploma Pick Up – May 21 – specific times and details on Canvas
Keep in mind that it is STILL our hope to bring The Class of 2020 together this summer.  When we know it is safe to celebrate in-person, we will communicate those details to you.  
YEARBOOKS ANYONE?
QUESTIONS FOR ALL STUDENTS
If you or your student has a question, we have many avenues available to get answers. 
The links below are for general questions that cannot be answered by your teacher or counselor.  We have organized these forms according grade level:
The TECHNOLOGY LINK can help if you are having iPad issues.
CLICK HERE FOR MORE INFORMATION if your child is struggling emotionally.  Our School Counselors are available and have office hours to meet with your child.
This link below will provide any other information you may need:
CORONAVIRUS UPDATES AND E-LEARNING

Please be sure to share John's updates along with your updates.  It's very important to get his messages out there along with yours.  Thanks all.
Here is this week's video update from Superintendent Marschhausen.  Today he discusses plans for the end of this school year including dropping off iPads and picking up student belongings.
Attendance Calls Underway
We are now sending SchoolMessenger phone calls to parents letting them know their student was absent from one or more classes in a day.  Please be sure your student is logging into Canvas daily and keeping up with designated eLearning assignments. If your child is sick, or will be absent for a day, please follow the standard procedure for reporting your student's absence.  Please check Home Access to review your child's absence details. If you have any questions, please contact your student's teacher.