Bradley e-News – November 4-8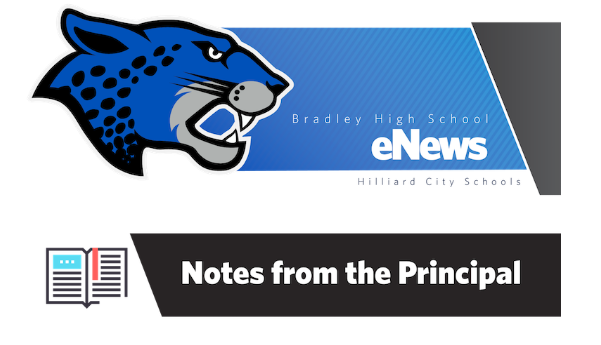 NO SCHOOL ON TUESDAY
Tuesday November 5 is a professional learning day for teachers.  Students will not be in school on this day but teachers will be working hard to learn new strategies to improve their teaching in the classroom.

WHAT'S HAPPENING AT BRADLEY
Nov. 5  No School for students
Nov. 5 @ 7 p.m.  PTO Meeting in Media Center
Nov. 7 @ 7 p.m.  National Honor Society Induction
Nov. 15 – 17  The Haunting of Hill House Production  PURCHASE TICKETS HERE
CLICK HERE to view our Bradley calendar for all events.

SCHOOL COUNSELOR INFORMATION
Check out our School Counseling WEBSITE HERE.
On this site, you will find information on how to schedule a time to see your School Counselor and also see lots of college information.  Seniors – you will also be able to stay up to date on scholarships and other graduation information as they become available.
​​​​​​​
SENIORS – CLASS OF 2020
College application deadlines are fast approaching!  Below is a list of things that must be finished by the deadline
Completed application – Submitted
ACT/SAT scores sent directly to the institutions from the testing agency.  Hilliard does not send ACT/SAT scores to colleges.
Turn in a "transcript authorization" form to the guidance department
Request transcripts in Naviance
Request letters of recommendation in Naviance
***Deadlines are fast approaching! – Once you (student) have completed your application, go ahead and submit!  Do not wait until the last minute!  Counselors are working to make sure all transcripts are submitted by the deadline.***
Use THIS LINK for more information about your senior year that includes important dates in preparing for graduation. 
Use THIS LINK for more information about college and career planning.
SENIOR PICTURE INFORMATION
Senior picture submissions are being accepted NOW for the 2019-2020 Yearbook! The deadline for submissions is Friday, December 13th, 2019, but why wait? Upload your senior photo NOW by going to our Bradley Yearbook website at http://is.gd/hbyearbook and filling out the google form linked under the "Senior Pictures" tab. The sooner the better!
If you want to purchase a yearbook for the 2019/2020 school year, go to  www.jostensyearbooks.com

A MESSAGE FROM OUR PTO
Parents and Grandparents Spirit Wear Sale ends October 30th! Don't miss the chance get one of these beauties! Great for Holiday Gifts!
Support the PTO Spirit Night at Chipotle (Hilliard Rome Road location only) – Sun., Nov. 17th – 4:00 p.m. to 8:00 p.m. Remember to bring your flyer.
The next PTO Meeting is Tuesday, November 5th at 7:00 p.m. in the Media Center at Bradley. All parents and guardians are welcome to attend.
Visit the Bradley PTO web page to learn more about how you can help support PTO.

No School Tuesday, November 5, 2019
Remember that this Tuesday there is no school for our students.  Our staff will engage in a meaningful day of professional development.
Financial Transparency
As trustees of the community's investment in the facilities, materials and operational funds of our schools, the Board of Education has a fiduciary responsibility to ensure that all investments are protected and tax dollars are used wisely. Competent personnel and efficient procedures are essential for the sound management of fiscal affairs.  You can read more about our promise of financial transparency as well as read all financial reports on our web page.
Be Well Part II
We are happy to announce the Hilliard City Schools and Dublin City Schools are joining forces again this year to shine a spotlight on student mental health with Be Well Part II: A Parent University Event by Dublin and Hilliard City Schools.  The Gift of Failure will be the subject of a round of community book talks this winter as we lead up to our February 29, 2020event.  Please make plans to attend now, more information will come over the next few months.