Bradley eNews – January 21-25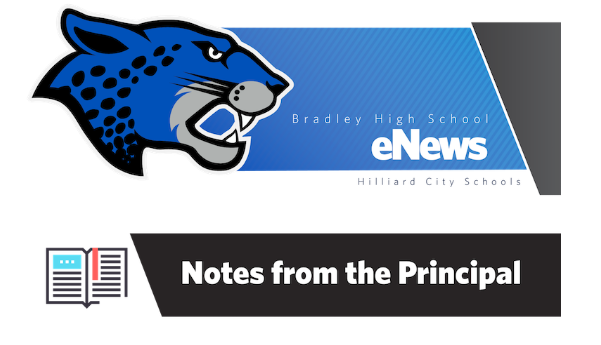 WINTER PLAY IS THIS WEEKEND
A comedic romp into the world of fantasy role-playing games, She Kills Monsters tells the story of Agnes Evans as she leaves her childhood home in Ohio following the death of her teenage sister, Tilly. When Agnes finds Tilly's Dungeons & Dragons notebook, however, she stumbles into a journey of discovery and action-packed adventure in the imaginary world that was Tilly's refuge.
In this high-octane dramatic comedy laden with homicidal fairies, nasty ogres, and 90s pop culture, acclaimed young playwright Qui Nguyen offers a heart-pounding homage to the geek and warrior within us all. – Samuel French
Join us this coming weekend for She Kills Monsters.  CLICK HERE to purchase tickets.

WHAT'S HAPPENING AT BRADLEY
Jan. 24 – Jan 25 @ 7 p.m.  She Kills Monsters Winter Play
Jan. 25 @ 2 p.m.  She Kills Monsters Winter Play
Feb. 3 @ 6:30 p.m. @ Darby H.S.   10th grade Parent Meeting (for all parents in Hilliard Schools)
CLICK HERE to view our Bradley calendar for all events.

SCHOOL COUNSELOR INFORMATION
Check out our School Counseling WEBSITE HERE.
On this site, you will find information on how to schedule a time to see your School Counselor and also see lots of college information.  Seniors – you will also be able to stay up to date on scholarships and other graduation information as they become available.
SENIORS – CLASS OF 2020
Use THIS LINK for more information about your senior year that includes important dates in preparing for graduation.
Use THIS LINK for more information about college and career planning.
COLLEGE APPLICATION INFORMATION
Below is a list of things that must be finished in order to apply to college.
Completed application – Submitted
ACT/SAT scores sent directly to the institutions from the testing agency.  Hilliard does not send ACT/SAT scores to colleges.
Turn in a "transcript authorization" form to the guidance department
Request transcripts in Naviance
Request letters of recommendation in Naviance
Deadlines are fast approaching! – Once you (student) have completed your application, go ahead and submit!  Do not wait until the last minute!  Counselors are working to make sure all transcripts are submitted by the deadline.***

A MESSAGE FROM OUR PTO
Do you have leadership skills? Want to support the efforts of Bradley's PTO in a meaningful way? Consider joining the PTO Executive Committee in the 2020-2021 school year.  We need people to help lead the organization, coordinate meals for teacher conferences, help with fund raising, coordinate the quarterly cookie day for students, and assist with our annual senior scholarship process. Without strong leaders and parents willing to volunteer their time and talents, the PTO cannot function or provide funding and support for our students and teachers. You can learn more about what's involved in being a leader in the PTO and other ways you can help by attending one of our upcoming monthly meetings. Our next meeting is Tuesday, February 4, 2020 at 7:00 p.m. in the Media Center at Bradley. Hope to see you there!
Our next Spirit Night is Tuesday, February 11, 2020 at McAlister's Deli (in front of Meijer near Starbucks)  5:00 p.m. – 10:00 p.m. with flyer. Grab a bite to eat and support the PTO at the same time!
Do you shop at Kroger? Register your Kroger Plus card and a percentage of your purchases will be donated to the PTO. Click here to learn more.
Support the Bradley PTO through our PayPal Giving Fund. Donations are tax deductible and 100% of proceeds support our students and teachers.
Visit the Bradley PTO web page to learn more about how you can help support PTO or email us at HilliardBradleyPTO@gmail.com
Visit the Bradley PTO web page to learn more about how you can help support PTO.

Be Well Parent University – A Few Community Book Talks Left
 You just have a few more chance to join in on our community book talks being hosted by Hilliard and Dublin School administrators.  These are centered around the book The Gift of Failure: How the Best Parents Learn to Let Go So Their Child Can Succeed. You can register now for these book talks or just show up when one fits into your schedule.
Listening Leaders
Several times a year Superintendent John Marschhausen schedules time to have coffee with our community. These are informal times to grab a cup of coffee and chat with the superintendent.  Mr. Mark Abate, President of the Board of Education, will be joining Dr. Marschhausen this time around. The two will be hosting Listening Leaders at various locations in Hilliard.  The two are committed to listening to you, our community.  As we gather information and listen to understand, we can better plan for future goals and programs.  Please make plans to join us at one of these for a casual conversation.
January 29 from 9-10 am at Coffee Connections
January 30 from 8-9:30 at Panera Mill Run
January 31 from 10-11 at the Hilliard Library
Transportation Alerts
Over the next few weeks we will begin using our School Messenger tool to notify families about transportation delays and issues.  It is imperative that we have your correct information in home access so you can receive texts and emails in a timely manner.  You can also download the School Messenger app to control how you receive these messages, whether by phone, text or email.
This is the same system we currently use for district and school newsletters, attendance and emergency weather notifications.
Civil Service Exam
Hilliard City Schools is now accepting Custodian Civil Service exam applications. These must have a postmark no later than Wednesday, January 22, 2020.  You can begin the application online.
Denim and Diamonds – HEF Fundraiser
You are invited to join the Hilliard Education Foundation for a magical evening of fun and philanthropy at Denim & Diamonds on March 7, 2020 at the Heritage Golf Club in Hilliard. This year's entertainment includes an awesome DJ, photo booth and a roaming magician. You can learn more and get tickets online.  The proceeds from this charity event provide funding for grants in our schools.
 Kindergarten Registration Open
 Kindergarten registration has begun for the 2020-2021 school year. If your child will be five years of age on or before September 30, 2020, he/she is eligible to start kindergarten during the 2020-2021 school year.
Parents should visit the HCSD welcome center on our website to complete the online registration and sign up for a registration appointment. Please don't delay. Appointment times fill up quickly.