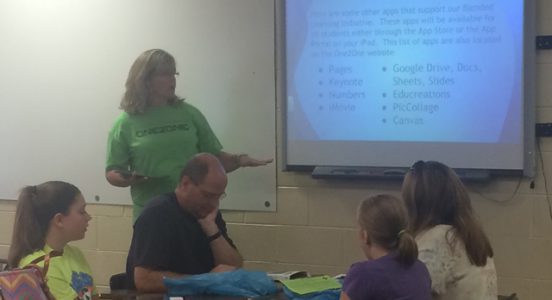 By Denise Regenbogen, Hilliard Parent
I have a daughter heading to high school; she had an iPad last year. As she got her iPad in the beginning of the school year, I had concerns about it. Since I am not a very tech-savvy mom, I worried, how will I know what is going on. How can I see her work? How will I know what she is doing? How will I know she is using the IPad correctly? 
I quickly learned from her, I could see her homework assignments and she could print out almost everything she did on her iPad. I quickly realized I was not "out of the loop" like I worried I would be.
I'm not a mom who has to hover over her daughter, but I do want to know what is going on, I don't need to know all the "workings" of the iPad, but I wanted some knowledge so I could be informed and help when needed. I follow the Hilliard City School websites and spotted some parent classes that were being offered by the Technology department. I made time to attend a couple of the classes offered. I was totally amazed at how much I learned from these sessions. In 90 minutes, I learned about Canvas, Notability and several other apps that my daughter was using to complete her homework. I also learned how she could upload her homework and the best ways to communicate with her teachers.
I would urge any and every parent to take the time to attend a couple of the sessions coming this fall. You will be amazed as to how our children are blending technology with old school learning processes every single day. They are taught to use the iPads in their daily work and how to improve their organizational skills.
Make it a priority to attend the sessions offered by the district. You will be amazed as to what you can learn.
Denise Regenbogen is a mom and member of the Hilliard Parent's Panel. From time to time we invite our Parent's Panel to write about their own experiences, in their own words. Please watch for more information on the next set of Parenting in the Digital Age Workshops.