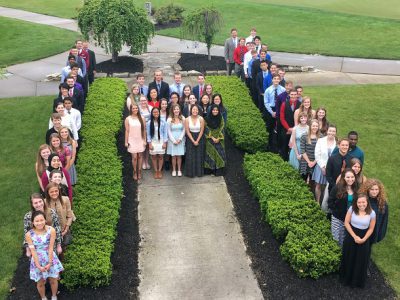 Our district's mission is to prepare each student to be "Ready for Tomorrow." Tomorrow is going to be very different for many of our students. We are proud of the personalized education we offer our students each day. There are many avenues for our students to pursue as they work toward being Ready for their own Tomorrow.
For instance, Hilliard students earned 4,180 credits through the College Credit Plus (CCP) program during the 2015-16 school year. One program under the CCP umbrella is our College Jump Start offered at our I.L.C. Seniors (Class of 2016) saved over $1million in credits earned through this our College Jump Start program. Student enrollment in this program continues to expand, with nearly 200 students in this junior/senior program. Our district costs for the 2015-16 school year was $185,459.00.
We are also proud to offer a myriad of Advanced Placement (AP) courses, with student enrollment and tests taken increasing by a 7% clip. In addition, our district experienced the largest number ever of AP scores being 3, 4 and 5 for this past school year. Having both College Credit Plus and Advanced Placement courses coexist and continue to increase in student opportunities is a unique accomplishment. Finally, our district has 26 National Merit Scholars with 16 students earning Semi-Finalist status. Hilliard Darby High School has the largest number of National Merit Scholars in its 18-year school history.
Please feel free to reach out to either Mr. Bandow or Mr. Woodford if you have questions surrounding these programs.