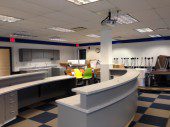 Hilliard City Schools announced earlier this year that thanks to a nearly $1 million grant from the State's Straight A Fund, the district would be expanding its medical field opportunities for students. Academy MD is part of the programming options available at the McVey Innovative Learning Center and helps students to be prepared for one of the fastest growing industries for job growth not only now, but for the foreseeable future as well.
During the two-year program, students can earn up to four elective credits while also learning technical skills for industry specific certificates and/or up to 10.5 hours of college credits related to:
Clinical Medical Assistant;
Medical Administrative Assistant;
Health Information Management;
Phlebotomist Lab Technician; and,
EKG Technician.
Academy MD will be ready to go for the first day of school on August 19 but a significant amount of renovations and updates are ongoing during the summer months. The district's Welcome Center and School Aged Child Care (SACC) programs were relocated to the Central Office location on Atlas Street. These office spaces have been converted to flexible classrooms as well as a working medical lab so students can have a truly hands-on experience. Additional parking spaces are being added and other parking sections are being replaced.
All of this is being done so that students who are interested in working in these sections of the medical field can be ready to either enter the workforce or get a jumpstart by continuing their education after graduation. Looking ahead to what the employment needs and opportunities of the future will be and ensuring students have the chances today to be prepared for those fields is what being ready for tomorrow is all about.