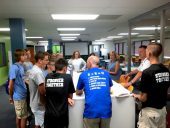 This school year all Hilliard students will be learning about R Factor. R Factor is the Performance Pathway taught by Tim Kight and his company Focus 3. This program helps you navigate the events of life & work in a way that produces great results. The answer begins with a simple, but powerful equation: E + R = O (Event + Response = Outcome)
Before school even started, staff and students from several of our Middle Schools and High Schools worked on ways to bring this program into our classrooms. They went through training to be R Factor teachers this year to their peers and fellow students.
Beginning September 11, Tim Kight and his team will present seven, one hour sessions, on the R Factor Disciplines. These are free and open to our community members. They will take place at Darby High School each Sunday night beginning at 7pm. Keep watching our web page and eNews Updates for more information to come.