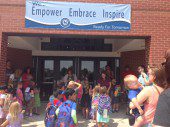 Well… We did it! I say we, because I could not have made this DREAM come true without everyone around me. My students walked into the classroom today and immediately put the biggest smile on my face! The anticipation of this day filled me with excitement and to be honest, I was nervous too!
The children in my classroom were extremely attentive as we read "David Goes to School" on our first day. I chose this story so that we could brainstorm some ideas on what it means to be a good student. (We will refer back to this as we talk about our class rules.)
Now that the day has ended, I can honestly say that it was a success! There were many "teachable moments" for my students and for me. I know that there will be many of those "teachable moments" every single day, as long as I teach. As a professional, I know that I do not know everything there is to know and I love when my students teach me something new. They are so bright and they will help me grow as a teacher just as much as I will help them grow during their first year at school.
Now that the school day has come to an end, I look forward to the learning that will fill the room tomorrow. Surprisingly, the silence in my room is not peaceful; I wish it were filled with the students again. Thanks to them, I will be living my passion again tomorrow!