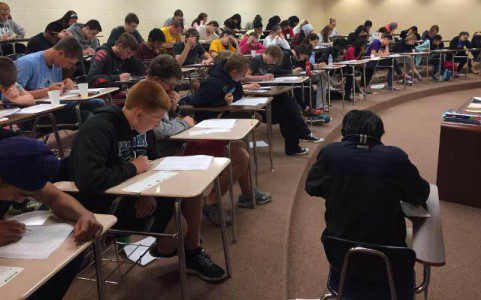 Tests and assessments . . . students have been taking them in American schools for generations. Exams are part of our school culture; we test students to see what they know, where they need to improve, and if our instructional practices are reaching the students. I don't know an educator who believes we should get rid of all assessments. We must have accountability in our schools.
The recent focus on assessments in Ohio has garnered a great deal of media attention. Teachers, parents, and students have expressed serious concerns about the amount of testing we are doing in our public schools. There is legislation pending to reduce the time spent on state assessments; our legislators have heard us and are considering a myriad of options. 
Here in Hilliard we have also been reflecting on our assessment practices. Tests aren't limited to state mandated activities; we spend a great deal of instructional time to give our own assessments. If we are going to express concerns about losing time to state tests, we must be willing to reflect on our own practices as well.
One area that we can reduce tests that don't directly impact instruction is secondary final exams. Final exams serve little instructional purpose. In fact, in most cases students only see a percent score. They never even see what they've missed – let alone be given an opportunity to learn the information that was incorrect on the exam. Our students miss between six and eight days of instruction to take exams – these are lost opportunities for learning.
We have plenty of opportunities for students to learn the skill of studying; we don't need to waste over a week of instruction for students to learn to cram for an exam. Students will still take tests throughout the year. In class tests, AP, ACT, and College Credit Plus will prepare students for college; we have no shortage of tests in schools.
We have changed our final exam schedule for this spring – this is the first step. We are encouraging teachers to shift to authentic opportunities for students to demonstrate the acquisition and understanding of the materials. We are eager for students to create, build, and apply what they have learned in each class . . . and to share that with their teachers and peers. In the future we will be changing the calculation of grades to reflect our emerging practices. We continue to seek opportunities to improve our practices as we strive to ensure that all students are truly Ready for Tomorrow.
Bradley Exam Schedule Available Here
Darby Exam Schedule Available Here