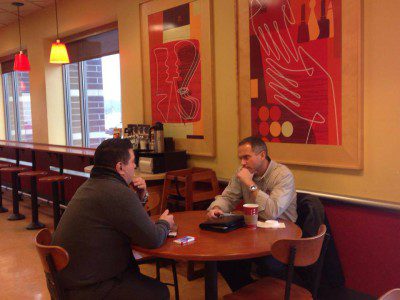 I truly love talking about the Hilliard City Schools. We have dedicated, passionate teachers and staff members. We have talented, wonderful, diverse students. We have supportive, loving parents and a great community. I am very proud to live in, and work with, the Hilliard Community.
I was recently asked about our district by a couple that just recently moved into the district. I shared that I believe we have the best school district in Ohio because we provide real world experiences, in a socially and economically diverse district, we focus on the whole child including phenomenal visual arts, fine arts, and athletic programming, all with an academic experience that prepares students to be ready for success after graduation. What makes me most excited about the future is while we are good . . . we are only going to continue to get better. I believe we are exceptional – but we've only scratched the surface. We have a lot of room to grow, innovate, and improve. We must individualize instruction to empower every student to reach his or her highest potential. We must inspire each individual student to dream about the future – and then make those dreams a reality.
We are going to improve by personalizing education for each child, by incorporating new technology each and every year, by partnering with our diverse community to not simply tolerate differences but embrace them, and by working with our families and communities to inspire passion in our children. Our young people are tomorrow's leaders, doctors, inventors, and teachers . . . the future is bright and we are striving to empower greatness in Hilliard's boys and girls.
If you would like to know more about our vision, our focus, and our future, please continue to follow us on Twitter and Facebook, watch our students excel, or simply talk with anyone associated with our district. We also have some opportunities for conversations and direct involvement coming in the near future. Feel free to join us . . . it truly takes a village.
Coffee Connections with the Superintendent
Monday, November 17th – Tim Hortons, 1815 Hilliard Rome Rd
11:00 am – 1:00 pm
Tuesday, November 18th – Panera Bread, 3625 Fishinger Blvd (Mill Run)
9:45 am – 11:00 am
Friday, November 21st – New Grounds Coffee, 6318 Scioto Darby Rd
10:00 am – 11:00 am
Accountability Summit
Tuesday, November 18th – Accountability Summit
Weaver MS – 7:00 pm
Please join the conversation … I look forward to talking with you. @drjcm