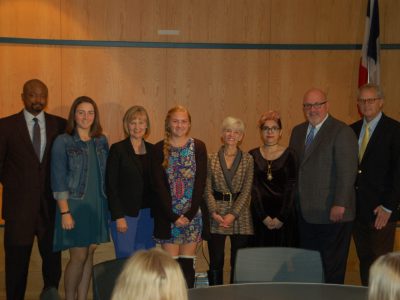 The Franklin County Board of Commissioners recently celebrated local high school students that exemplify excellence in academic disciplines and/or visual and performing arts. Thirty-three students from around Franklin County were recognized for their scholastic and artistic achievements. Each school district in Franklin County was invited to submit students to be recognized. Students recognized include aspiring artists, dancers, musicians, photographers and writers.
We would like to congratulate the following Hilliard Students;
Sydney Pliska from Bradley High School
Allison Rhodes from Darby High School
Mona Danesh from Davidson High School
The goal of Franklin County High School Artists and Scholars recognition program is to encourage students in Franklin County to strive for excellence in all areas of their school work, recognize that students learn lessons of discipline, dedication, and perseverance through their commitment to excellence in academic and creative endeavors, and serve as a means to celebrate the efforts of schools and districts to support academic and artistic excellence in their students.
This recognition program is a partnership with the Greater Columbus Arts Council, which hosted a breakfast for the students, their families, and school representatives prior to the meeting, and mirrors the partnership between the Commissioners and the Greater Columbus Sports Commission through which local high school state champion athletes are seasonally recognized.