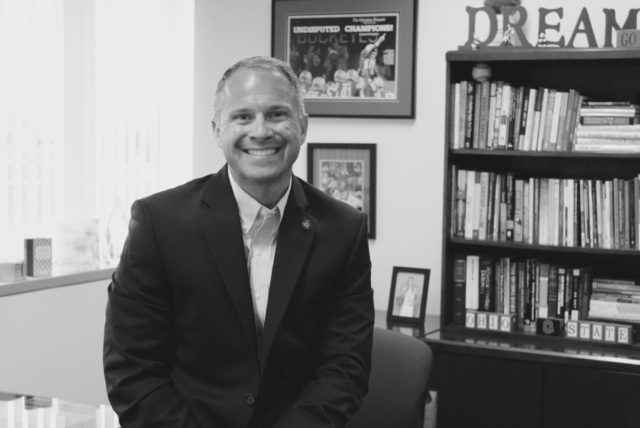 As the Hilliard City School District embarks on the journey of creating a campus school experience between Britton Elementary and Norwich Elementary it is imperative the facts, intentions, and plans drive our conversation. Our clarity of purpose calms fears, reduces anxiety, and maintains a focus on the mission. When we act with skill and intentionality the outcome is what we desire. When we act with emotion and impulse we fail every time. Our team is committed to discipline action, professional engagement, and educational excellence.
The Plan
Beginning with the 2020-2021 School Year the Hilliard City School District plans to operate a single school campus incorporating Britton Elementary as a Kindergarten through Second Grade (K-2) Building and Norwich Elementary as a Third Grade through Fifth Grade (3-5) Building. This campus will include only the current students in the Britton and Norwich attendance areas. It has no impact on the other attendance areas for 2020-21.
Is this being done in any other districts?
Yes, several successful, forward-thinking districts in suburban areas have moved to organizing by grade level to take advantage of resources and more efficiently personalize educational experiences for young people. What we are proposing isn't a wild departure from educational practices. Loveland City Schools, the district I previously served as Superintendent, operates one PK-K Early Childhood Center, a Primary School (1-2), an Elementary School (3-4), an Intermediate School (5-6), a Middle School (7-8), and a High School (9-12). Mason City Schools and Lakota City Schools, both districts of over 10,000 students, organize district elementary schools by grade level – capitalizing on the benefits of shared resources and services.
The Hilliard Way
 The neighborhood elementary experience is part of the Hilliard Way. We serve nearly 17,000 students yet still provide a personal experience to each student. Our principals know every student and most families. Historically, neighborhood elementary schools create a greater sense of pride and ownership for school communities. What we do in our current configuration is excellent; there is nothing wrong with a 600 student neighborhood elementary. With that said, where we have an opportunity to both keep neighborhood schools AND capitalize on the opportunity to more efficiently utilize resources it is incumbent of us to act. The distance between Britton and Norwich Elementary is a short Par 3; a campus school environment will not impact any walkers, drivers, or bus routes. A campus school will not increase transportation costs. We can do better, with the facilities and resources we have, by living our district identified value of Passion for Growth. Our journey to elite demands that we keep improving, adapting, and adjusting to the needs of our students. Innovation and improvement is in our DNA here in Hilliard.
Changing World, Changing Schools
Schools are changing. We have more data on both academic and social emotional metrics than ever before in history. We can work to match individual student needs with specific teacher skills. We know more about social emotional needs. We face more challenges with increasing poverty. We are more diverse. The role of schools is no longer simply teaching academics; we are responsible for more and more social functions.
By having 7-8 sections of each grade level together we are able to capitalize on teacher skill. We are better able to maximize and balance class sizes. We will serve both gifted and special education students better; we will better personalize opportunities for all students. From an economic standpoint, this campus approach will make us more efficient with resource allocation. We don't measure success by state test scores in isolation. Success is personal for each student; we want each student to be the best version of himself/herself. We have a plethora of assessments, both academic and social emotional, to track student performance and improvement. We will never "test" a student out of poverty or into college; we nurture, support, and challenge each student in our care. What worked best in the past, may not be the best for the present and future. We reflect, evaluate, and improve.
What's Next
Yes, Alton Darby and Darby Creek are next. We are starting at Britton and Norwich because we have three seasoned building leaders on this campus. Mr. Heitzman, Mrs. Borlaza and Mrs. Balduf know these buildings and know Hilliard. We will begin this process in the near future at our other elementary campus – Alton Darby & Darby Creek. These are the only two locations where we can maintain the neighborhood elementary climate and capitalize on combining resources. As we explore future facilities options, we will consider a Primary and Elementary approach as a construction option. The Next X report will include a facilities study; this is certainly a topic for consideration in that report.
Programming and Diversity
One of the greatest attributes of our district is our culture. Each building has a unique internal culture yet maintains the instructional standards of the Hilliard City School District. The instructional materials and curriculum are the same throughout our elementary system. Our district support teams and coaches provide the same in service and resources to all our buildings. Our campus approach simply changes the ability to focus and personalize services.
We live in an increasingly diverse community. When we create a campus learning environment we naturally balance diversity between the buildings. This is intentional and provides additional opportunities for teaching empathy and appreciation. We are proud of the life-lessons we provide students in the school setting. Hilliard students are well prepared for a diverse, global world and economy.
What do the experts say?
We have some of the most talented, skilled experts in public education in the Hilliard City Schools. Our community is blessed to be served by many educational experts. I have served in many districts, I'm a member of several state and national organizations, and I interact with educators from all over the country; we have a team of educational leaders that is second to none. Our Board attends both state and national conferences; they understand Hilliard's place on the national scene. We are proud to be leaders in the educational arena. From the Innovative Learning Center to our One-2-One rollout, from our Social Emotional work to our commitment to Student Wellness, Hilliard's team is a national model. We partner with the best – Apple, The Ohio State University, Panorama, CSCC, Amazon, Focus 3, Naviance, Worthington Industries, Fanning/Howey to name a few partners. Our team is collaborative, skilled, and experienced.
What can I do?
While our purpose is clear, the next year will provide many opportunities to iron out the details. We have identified many questions; you can help us by asking questions of your own. There will be parent committees to discuss process and practice. We need to talk about drop-off and pick-up, SACC, siblings, PTO funds, conferences, music programs, playgrounds, transitions, and many other issues. We have begun this journey, we have a destination, but our path is far from cleared of obstacles. It is going to take us working as a school community to best serve our children.
I can tell you with the utmost confidence what is counterproductive. When we permit emotions, the fear of change, to control our behavior no one wins. When we resort to vitriolic or bullying behavior – often on social media outlets – no one benefits. When we share suppositions as if they are facts, no one wins. My hope is that we can have intentional, skilled conversations about this transition. By doing so we model the behavior, the very behavior we teach the students in our classrooms, through our actions. We will stay "above the line" and act with discipline and purpose.
If you have specific questions about the plan and process, please contact your building principal or Mr. Herb Higginbotham, Director of Elementary Education. We will continue to post information about future meetings in the coming months. The 2019-20 school year will provide numerous planning, sharing, and engagement events for this emerging campus family.