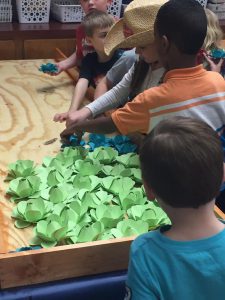 Brown Elementary was thrilled to welcome guest artist Lea Gray of PaperBlooms LGD! Ms. Gray makes beautiful, complex paper flowers. While at Brown, she worked with students to make a huge paper garden!
This is a 16 feet long piece of art that uses 450 sheets of paper. There were 500 student artists involved from all grades. Each student made at least one contribution.
Students prepared for this visit by learning about radial design, exploring succulent categorization, and prepping materials. The installation of this art has transformed this high traffic area into something a passerby can enjoy and feel inspired.