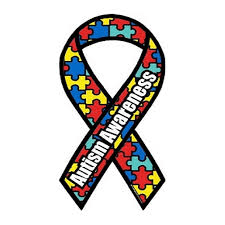 In honor of Autism Awareness month, I wanted to share some personal reflections about autism and the students I have been privileged to serve.
I remember when I entered the profession and was asked about my experience with students with autism. All I could say was that I had heard the term. Fortunately, my knowledge has increased over the years through experiences, relationships with parents, professional development, my Master's work, earning my autism certification and especially through my time with students. The students who have entered my life have had a profound impact that I will always treasure. I, in turn, learned so much by entering their world through glimpses of their thoughts, experiences, disappointments, misunderstandings and humor.
Oh the humor! Here are a few chuckles evoked by their literal processing:
Teacher: To student doing well-"Wow, you are on fire!"
Student: Begins to pat self to put out flames.
Teacher: Passing out quizzes to students – "Don't turn your paper over until I tell you."
Student: Picks the paper up flat, holds it up and looks under it. (Did not turn it over!)
Teacher: Checking student materials for progress on a project as he walks past each desk- "You are good to go, you are good to go…"
Student: Gets up and walks out.
Teacher: "We talked about this yesterday. You are not allowed to look under the bathroom stalls."
Student: "But I didn't look under the stall, I looked over the stall."
I have had many smiles and laughs; such wonderfully fond memories.
While the complexity of the condition continues to present significant issues, new research is getting closer and closer to identifying actual causal agents/events. New findings about the interrelation of proteins, neurotransmitters and the synapse function are getting us closer to understanding the neurology of autism. I really hope that significant biological treatment will be identified in my lifetime. In the meantime, as Temple Grandin, a person with autism, says, "The world needs all kinds of minds."
Many people with ASD, possessing the ability to focus on details and think in concrete terms, may have contributed to the advancement of our society in ways we have not clearly identified. On the other hand, there are many students with significant issues reaching adulthood without adequate services and support to function independently or semi-independently. Due to explosive numbers of people with ASD and funding for services that has lagged behind the growth, not only are schools greatly impacted, but society as a whole is impacted by needs due to communication deficits, organizational deficits, lack of social perspective and emotional control.
Take time to try to understand the disorder. If you encounter a person with characteristics of autism, remember to use fewer words, say exactly what you mean, don't ask open-ended questions, and use visuals to convey information whenever possible. Be honest to the degree of bluntness ("The rule is…", "This is what's allowed", "People expect …") because vague references or subtle hints do not compute. You may not be thanked, but you will have provided understanding, support and kindness; you will have made a difference.