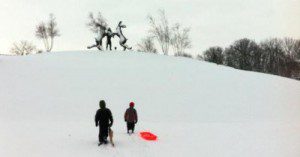 As we plow through another Ohio winter I want to take a moment to thank the many people who make getting to school a little easier.
It starts with our road crews who work hours upon hours making our roads drivable.  Our own staff is out at all hours plowing our driveways and sidewalks and putting down salt to make the commute safer. Our parents do a great job of bundling our students up as they make their way in to school. It truly is a partnership.
We can't wait for perfect weather . . . It's Ohio. We have school when we can – and that includes less than ideal conditions some times. It's cold . . . We get a dusting of snow . . . it starts to get icy . . . It's winter in Ohio. Moms and Dads go to work; students go to school. It's what we do.
We have amazing bus drivers . . . it is safer on a school bus than in a car. School busses are among the safest forms of transportation. We have a seat for all our young drivers. On winter days in Ohio, we are more than happy to pick up and drop off new drivers.
Our community is committed to educating our children. Thank you for being a part of this and thank you for your support.