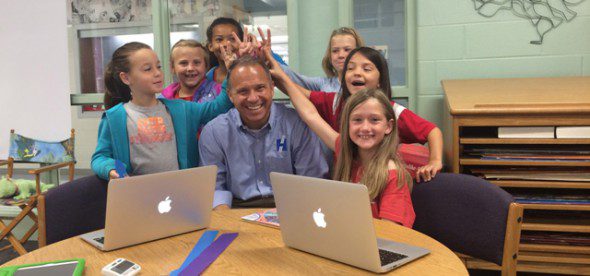 I am often quoted as saying, "I love my job." I love what I do. I love the opportunity to lead this dedicated, talented team. I love the challenge of preparing over 16,000 young people to be the next generation of America's leaders. On this Thanksgiving weekend we have an opportunity to pause, to get our minds focused on what's most important to us, and to share with those in our lives.
My bio on the district website shares, "I am blessed to work with talented teachers, elite administrators, passionate parents, engaged students, and a supportive community." As the superintendent, a community member, and a parent in this community . . . I have many reasons to give thanks for the opportunities in my life.
For most people, the concept of love is sentimental. It is about emotion. We instinctively think about love as romance and passion. We think about love as a feeling.
When I express my "love" for my job, our schools, and our community it is a different kind of love . . . it is a commitment. Our teachers love their students; they are committed to preparing them for the future. As a superintendent, the love for my work is a calling . . . it is servant leadership. This love takes work to a different level. It isn't simply a job; it's a mission.
I am blessed, and I give thanks, to be able to earn a living doing something that I love.
As we celebrate Thanksgiving, it is a time to reflect on the power of love . . . the love that moves us to do things. Our world today pulls us towards instant gratification . . . to seek quick and easy things that require less of us to obtain. In reality, we give thanks for what means the most. We give thanks for what requires the most from us . . . for what what we love. We love our families; the love of family isn't easy . . . it requires putting the needs of others above our own. We give thanks for health – staying healthy and living a balanced life requires commitment and dedication. What we love doesn't come easy. Relationships require commitment – we must invest part of us in our relationships. We must give of ourselves.
I am thankful I have a job that I love. I am hopeful that as we personalize education – as we relentlessly focus on providing each student educational opportunities to grow and develop as people – we will help each student discover what they love to do.
May each of you have a blessed and happy Thanksgiving weekend.