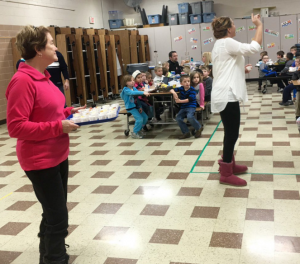 Taste Test Tuesday: Making Healthy Choices and Trying New Things!
 

Improving the Health and Wellness of the "Student Body" 
The  Ridgewood Elementary Wellness Committee is a collaborative effort between parents, students, teachers, food service workers, administration, and the community, dedicated to improving the health and educational performance of students and staff through better nutrition and physical activity.
Meeting Dates:
9/20 at 7pm media center
11/8  at 7pm media center
1/17 at 7pm in media center
3/7 at 7pm in media center
5/16 at 7pm in media center
You will see that many of our initiatives this year focus around the theme of:
 Ridgewood Fit! Healthy: Body, Mind, and Spirit.
1.   Healthy Bodies- Eating good food & getting lots of exercise.
·      Fresh fruit smoothies for breakfast
·      Whole wheat & vegetarian options for lunch
·      No synthetic food dyes or artificial flavoring
·2.   Healthy Minds- Learning new & engaging things.
·      Looking at 21st Century Skills and how to help our children be creative, collaborative, adaptable, communicate well, and be critical thinkers
3.   Healthy Spirit- Feeling respected & respecting others
·      We will institute a school-wide behavior plan this year that stresses the following:
                At Ridgewood, We…
· Take Care of Others
· Take Care of Ourselves
· Take Care of Our School
4.  Birthday Celebrations
We know that birthdays are important to every child and that kids like to celebrate with their classmates. However, sending in a food treat to the classroom to celebrate can exclude those children who have food allergies, diabetes or other dietary restrictions.
If you would like an alternative to food treats for your child's birthday recognition at school, here are some suggestions.
Party favors – erasers, tops, notepads, bubbles
Come to the classroom and read a book to the students!
Purchase something for the classroom – book, game, plant, etc.
Decorate a box and send it to the classroom. Classmates can write a greeting to your child and place it in the special box! .
Bring in something the students can sign – like a t-shirt, tote bag, autograph book
Check with your child's teacher to see what would be acceptable. As always, advance notice of your plans is appreciated.