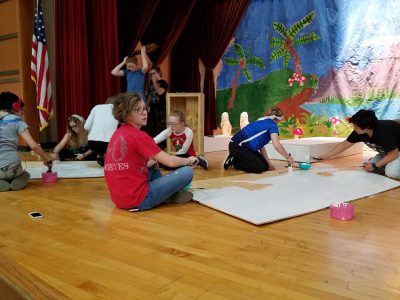 Everyone enjoys watching a story unfold on stage or on the big screen. The one thing that many people overlook is the hundreds of student-hours of work that goes on behind the scenes.
The Weaver Middle School Tech Crew has been working a couple of hours a day for the last three weeks to prepare the sets for the school's production of Jolly Roger and the Pirate Queen. This group of 20-30 seventh and eighth graders has been busy creating props that will set the scene that the actors use for their performance. From building a bench that the actors will sit on during the garden scene to creating a pirate ship, Tech Crew's job is to make the director's vision a reality. 
After Weaver Middle School's drama director, Ms. Cathy Emmons, selects a script, she sits down with tech director, Mr. John McClelland, to develop ideas for what the sets might look like. He then passes that information off to the student tech crew, and they start working on the various parts of the sets and begin to create props that will be used during the production.
During the play, Tech Crew is responsible for moving props onstage when they are needed and then offstage when they are not, along with running the sound board, light board and spot lights. As you can see, there is a lot going on behind the scenes. While the actors get the spotlight, that spotlight doesn't work without Tech Crew.
We hope you will join the Weaver Middle School Drama Department's production of Jolly Roger and the Pirate Queen written by Craig Sodaro. Performances will be on Monday March 13 and Tuesday March 14 in the Weaver Middle School Commons. Showtime is 7 p.m.