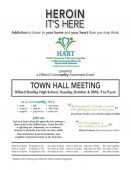 HART, Health Awareness and Recovery Together, a Hilliard Community Alliance for Mental Health Initiatives invites you to join us to learn about the opiate/heroin/substance abuse crisis in the Hilliard area. Learn how this is affecting our community, as we embrace awareness and unite to prevent one more death.
This is a problem all across the United States and we want to be at the forefront of supporting our students, parents and community. Hear testimonies from local families, your neighbors and professionals on the front line.
This Town Hall style meeting will take place at Hilliard Bradley High School, Tuesday, October 4, 2016, 7 to 9 p.m. Please make time to join us as we work together to find a solution.