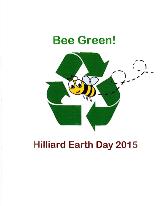 Join the Superintendent's Student Advisory Group for their annual Recycling Day. It will take place on April 25th from 8am-noon at the Hilliard Community Center, 3800 Veterans Memorial Dr.
We will be accepting, paper, electronics and Styrofoam for recycling, however this year we CANNOT accept TV's or Styrofoam from food packaging.
From 10am-noon the City of Hilliard will also have Earth Day events going on; OSU EcoCAR, inflatables, crafts, games and prizes for kids! Community trash pick up, The Central Ohio Bee Keeper Association and MORE!