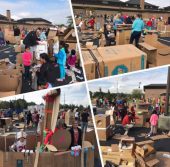 The Columbus Museum of Art and the Past Foundation have selected Hilliard City Schools to host a Community Cardboard Challenge for the second year in a row. The event took place over the weekend and involved many of our elementary schools. Students from the entire district were invited to attend the play day.
Students (and their parents) had the opportunity to play and experiment while learning and using their critical thinking skills. It was a morning of imagination, creative challenges, and cardboard fueled fun!
You can click here to see more photos from the day!