Project Discover
Project Discover: creativity, critical thinking, problem-solving & public speaking
Project Discover is a double block, one semester course that is open to all 7th grade students. Students ride the bus from their home building to the ILC for two periods and ride the bus back to resume their day.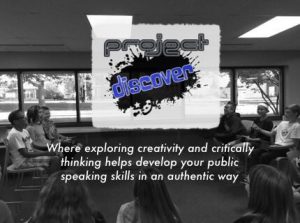 How do you handle failure?  Are you creative?  How do you best show your knowledge?  Are you a problem identifier or problem solver?  How comfortable are you expressing your ideas with others?
All of these questions drive Project Discover.  The course provides a variety of experiences which allow students to uncover their unique creativity, personal passions, gain confidence speaking and sharing their thoughts, and develop the grit necessary to thrive today – regardless of their individual path.  Students will discover what drives them, identify problems related and become part of the solution!  They will give a TEDx-style talk at the end of the semester where they demonstrate enormous growth and confidence. How do we prepare for a future full of unknowns?  Help students gain authentic, relevant lifelong skills through Project Discover.
Hear straight from a recent Project Discover student, Ava Riley, on her experience and watch her amazing TED Talk here.