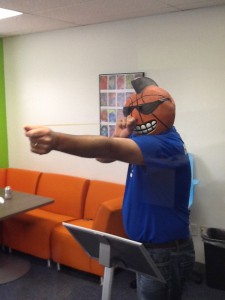 Mr. Bower is the online math instructor for Hilliard City Schools.  He teaches algebra 1, GAC  1, GAC 2, geometry, and algebra 2.
Mr. Bower's office is here at the ILC, but he can be found roaming the halls of each high school building checking in with his math students.  Each Tuesday, he flexes his schedule and holds "office hours" until 7pm at the ILC for students to visit and get individual help on math assignments.
Mr. Bower is well-known amongst his peers for his collection of instructional math videos that rival the Khan Academy (OK maybe that is a stretch, but still very impressive) and he is also the only staff member that can claim to have been in first place at some point during every ILC Staff Olympic event (Mr. Bower always goes first).
When asked about his experience as a part of the ILC, here is what Mr. Bower replied:
The Leadership is outstanding… it's the attitude that is pushed out to all involved!  When you work here, you know that anything that you can think up, that is beneficial for kids, will fly!!!  What freedom that should give anyone who takes residence in this building!! The culture that is being created is so different than any place I have been for a long, long time!!
 The opportunities here for students blow my mind!!  Credits for college, are you kidding me?  Music and Arts mixed with Broadcasting and video production (green screen)?  Shut up!!  My kids want in this program already and they are only in 3rd and 5th grade!  And I want them to be in it!  You want to be a teacher?? (make sure it's your calling)  And where else can a kid who has absolutely no interest in school and so many problems to deal with in their lives, get a second chance to be successful.. even if we have to drag them along a little bit! 
 And lastly from a selfish standpoint, it is my home!  I loved my time at Darby and I love the people there, but after a couple years of wandering in the desert, I now have a home.  And it's more than just my office, it's a group of people…on Ice Age, Manny and his gang would call it a herd!!  Different subject areas, different ages, different interests…merging together to lead kids to new and revolutionary realizations!   –  Mr. Bower