Students are playing a prominent role in shaping our vision both here at the ILC and throughout the district. Often, districts rely on professionals that have been in the education field who have been in the field 20+ years to design curriculum. Hilliard City Schools is turning to the folks that haven't even begun to dream about their 20th birthday.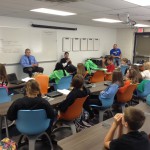 The Student Voice and Choice Committee is comprised of students from each of the three middle schools. This group most recently met with Mr. Wise, Mr. Morrison, and Secondary Director of Education Mike McDonough to talk about ways they would improve curriculum, instruction, building design, and many other aspects of their school experience. The Voice and Choice Committee will meet once a quarter to ensure that the district vision continues to align with the goals of our young people.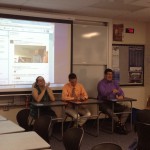 Students from Academy EDU were asked to sit on a panel during IGNITE. The panel discussed awareness surrounding social media and the use of social networks, apps, and cell phones during the school day. The experience was another example of how our students are helping to shape the experiences that we offer in Hilliard City Schools.