Health Professionals Academy Visits COSI
A total of 42 8th graders traveledt to COSI on November 30th to cap off 2 weeks of basic anatomy review, experiments that demonstrated normal and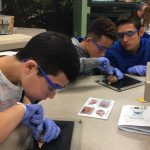 pathological functions, and investigative work into the cause of death of a patient.
The students rotated through 4 stations:
· They were able to explore the Life section of COSI, investigating the many hands-on activities in that area.
· They designed and completed an experiment guided by a registered pharmacist, in which they injected a live cricket with various substances to monitor the affect this had upon the nervous system. (saline, alcohol, tobacco)
· They dissected a sheep's brain, and recalled the anatomy and function of the human brain as learned in class.
· They viewed a taped autopsy, narrated by an OSU pathology resident that answered questions. Students had previous information about this patient that expired at OSU Hospital, and added additional details to their booklet of information on this case, to help them deduce the cause of death.
Health Professional Academy is a course offered at the ILC in partnership with Tolles to introduce students to the basic fundamentals of the health profession.  Follow Mrs. Shaw on twitter to see more.