The Hilliard City School District is pleased to begin our one to one initiative for the 2014-15 school year. Every student in grade six will be loaned an iPad mini to use both at school and at home during enrollment in the school district. Based on research we have done, the use of the iPad in a school setting is arguably one of the most significant ways to impact student motivation toward school, increase learning and achievement, provide learning resources and ebooks, and prepare students for a 21st century environment that all students will soon enter. Learn More
iPad Distribution Nights
Hilliard Station students will receive the devices on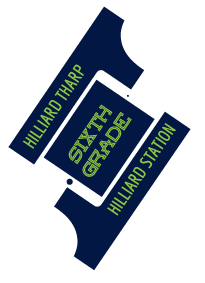 the following nights:
T'is the season!  Our staff is  getting excited about the kids receiving their iPads.  Because of afterschool activities at Memorial Middle School, a few changes needed to be made to our distribution times.  To help accommodate parking the best we can, we will be separating our distribution dates by academic teams.
We are asking you to please follow the schedule below based on your child's team.  Parents and students will need to attend one of the distribution nights at their student's building.  We know everyone is very busy, by coming to your assigned date and time it allows us to give you the best, and speediest, service we can.  However, if you cannot make your assigned time, you can come to one of our other scheduled dates at any time.
 January 7 – Wednesday                                                                    January 13 – Tuesday
4:00 pm – Team A                                                                                  6:30 – Team D
5:30 pm – Team B                                                                                   7:30 – Team E
6:30 pm – Team C
 You can park in front or behind Station.   You can enter our main front doors or the single door outside our music wing labeled B4. (These will be marked for you!)
Distributing 600 iPads is exciting, and it's our goal to make the process run smoothly.  Your patience will be much appreciated as it may take some time.  The more prepared you are, the quicker your process will be.  Doing the following 3 steps ahead of time should speed up your distribution.
Downloading and completing the Technology Protection Plan and the iPad Loan Agreement forms prior to your arrival.  Both forms can be found under the tab link on the 1:1 website at  http://www.hilliardschools.org/one2one/#
Bring your completed Apple ID and password – logging on ahead of time to ensure that it is working will save you from delays on your distribution evening.
If you plan to participate in the Technology Protection Plan, paying the $25 fee ahead of time online with the My Payments Plus website at   https://mypaymentsplus.com/Default.aspx will be a huge time saver.  **SPECIAL NOTE: there is no service fee for paying this plan through the My Payments Plus system online!!**