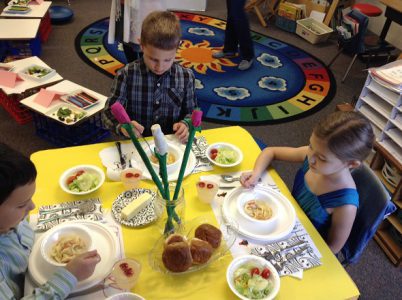 The second grade students in Mrs. Susie Scott's class participated in an etiquette luncheon. The purpose of creating the Etiquette luncheon comes from education researchers who have found that when we attach a joyful experience to a piece of learning that the brain will retrieve that information more readily, hold onto it, and be able to retrieve it later to use and transfer that learning.
In Hilliard City Schools, we strive to educate the whole child. This set of lessons focused on looking at a variety of social situations and deciding what skill sets might be needed in each one. Students looked at school settings, casual eating settings at home and at casual restaurants. The class read a number of books about manners, respect, when and how to use specific manners.
The final action was to have the luncheon. Parents helped organize the food, tables were set with nice plates and bowls and student had the opportunity to eat using several utensils. The students even dressed up for the occasion.